Preity magic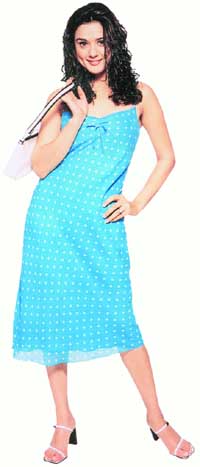 She is bubbly, bright and focused. Today, Bollywood belongs to this with-it girl of GenNow. With an impressive line-up of films in the kitty, two award-winning hits last year, and the recent critically acclaimed Lakshya, this knows-her-mind beauty is set to grab the top spot in the film industry. V. Gangadhar zeroes in on Preity Zinta's ambitious career moves, personal priorities and reported link-ups with co-stars.
During the past few weeks in her interaction with the media, Preity Zinta had been focusing on two issues – her role in Farhan Akthar's Lakshya and the comments on her personal life by certain gossip columnists. She is happy with the first and furious with the second.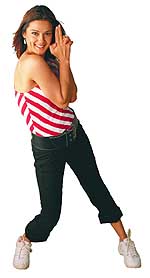 For the daughter of an army officer, her role in Lakshya, a film about jawans and the Kargil war, was something special. Preity regards it as the best role in her career which shot up in 2003 with four releases and two major hits (Koi Mil Gaya and Kal Ho Naa Ho) "Winning awards for these films was fabulous," says Preity, "but my role in Lakshya was something extra special."
Lakshya, says Preity, made her think and re-evaluate her priorities in her life. "I thought of the sacrifices of our jawans who lay down their lives without even knowing for whom exactly they are making the ultimate sacrifices. My faith in democracy was rekindled, I went and voted in the Lok Sabha poll because I realised I could contribute a little towards the running of the country."
Working on the film, Preity often thought of her late father and her brother, who is also an army officer.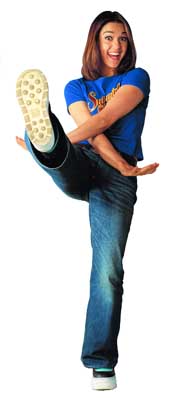 Despite critical acclaim, Lakshya did not fare well at the box office. "One cannot account for tastes of the public," Preity shrugs. "But you cannot discount all that critical acclaim." Her own role of a TV journalist also came for some barbed comments, particularly the way she had done her hair. "Was that relevant?" asks Preity. "I was not trying to imitate any living TV woman journalist." For Preity, the role of a journalist was something unusual and she prepared herself thoroughly for the same. "I know how journalists were normally portrayed on the Hindi screen," points out the actress. "Don't you see the difference in this role? I mean, the intensity, the originality?"
Lakshya was Preity's third movie with Hritihik Roshan, with whom she vibes well. "He is one of my best friends in the industry," Preity claims. "And that goes for his wife Suzanne too. We often meet at parties and enjoy ourselves. Hrithik understands the nuances of a good role and it came out well in Lakshya."
For someone who had made an impressive debut in Dil Se and followed it up by excelling in the role of an unwed mother in Kya Kehna, films like Lakshya were part of a big leap forward. Preity is among our top female stars but laughs at the suggestion that she had come to occupy the number-one spot. "I do not even want to think about it," she asserted. "It is good to be among the top female stars, getting roles from big banners. The number-one spot is really not important. There are other equally good actors in the business," she asserts.
It is a dream come true for Preity, who is slated to appear in Yash Chopra's next film. It means total acceptance. "Yashji's heroines are elegant and beautiful, but they are also strong," she points out. "For me, that is important. I want to play strong characters who carry the film forward." Dil Chahta Hai with Farhan Akthar was one such film. "He has progressed so much with just two films," declares Preity. "For me, identification with the character is important. For instance, that was one reason which made the role of Nina in Kal Ho Naa Ho so special for her. She was aware of the idealism behind the profession of journalism and that made Lakshya a real challenge. Dil Chahta Hai portrayed her as soft, fragile, and Lakshya depicted her as hard and gritty. Known as a tomboy, Preity would love to do genuine comedy roles. "But where are such roles?" laments the star.
Preity does not look beyond say a year or so. "Who knows what will happen after that? I have enough money, I can pick and choose my roles and live my own life." It is that which had led her to be in gossip columns and Preity did not like it one bit. "I am targeted because I am single and make my own choices," she rues.
According to Preity, her personal life has always been an open book. "I date, go out in public with the people I like and why shouldn't I?"
Yet, it hurt when her name was linked and continues to be linked with most of her co-stars and other actors. When Aamir Khan was divorced, she was linked with him. The same happened when Abhishek Bachchan's engagement with Karisma Kapoor was broken off. Preity wondered where and how did her name crop up. She did not believe in filing defamation suits because they take a long time and are not worth it. "Next time, anyone writes nonsense about me, I may well whack the writer," she snaps with an angry toss of the head.
"Such scurrilous writings hurt my family which has respected my way of life and independence," she says. Some journalists wrote that Abhishek was a constant visitor to her sets when she's shooting in Mumbai studios despite the fact that she has not shot in any Mumbai studios for a long time. "How can I go on contradicting such mischievous reporting?"
This psychology major from St. Bede's College Shimla is no plastic doll. Yet she must be hating headlines in the gossip press which screamed "I am no slut: Preity Zinta" Was she was aware of the tiff between Amitabh Bachchan and director Farhan Akthar on the sets of Lakshya? She dismisses the incident with a shrug. According to her, such arguments occur on every set. But she firmly denies that she was 'hiding' at the Bachchan Holi party because she was "involved" with Abhishek. In fact, she was very much in the open, dancing with everyone. But then, the gossip press must have its fill.
For long, feels Preity, women have been mere props in Bollywood and she does not want to be one. She has warm feelings for Saif Ali Khan and enjoyed his success in Hum Tum. There was no 'bitter rivalry' with Rani Mukherjee.
"Yes, we do move in different circles, but we are great friends too," declares Preity. Karan Johar has been another pal. "You can always cry on his shoulder," laughs the star. "But so far, I have not been asked to star in his next film. In fact, the cast has not been finalised except for the hero, Shah Rukh Khan."
During the Bharat Shah court case (which blew the lid off the involvement of the underworld with Bollywood and the extortion racket), unlike other witnesses who turned hostile, Preity had the guts to admit receiving threats from the lumpen elements.
Dubbed as the only hero in Bollywood by the cops, Preity had brushed aside the applause saying she had only stood by the statements she had made two years ago. That she has the grit to plough a lonely furrow is obvious because even in the cut-throat celluloid world she has walked alone without being cushioned by a mentor or a sugar daddy.
With her career in great shape, what more does Preity need? She has old-fashioned views on men and marriage. "A man is needed in a woman's life, otherwise the family will not be complete. Marriage should be a lifelong association." When Preity finally ties the knot, she would like to do it openly. "Take whatever you want from life, but be prepared to give back something" is her philosophy.