TELEVISION
Shopping guide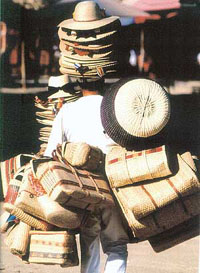 Watch Bazaar, Thursdays on Discovery
What's the new Thursday funda? Shop till you drop. Just tuck in your wallets and move out with travel host Estelle Bingham as he takes you to explore the most interesting markets around the world on Discovery's Bazaar, Thursdays at 10 p.m.
From the latest fashion must haves to antique pieces to glamorous jewels, Bazaar is your guide to international shopping, including tips on haggling and bargaining.
After visiting the oldest pawnshop in Mexico City, jet set to the dream city of Los Angles and then visit Bangkok to discover the lucrative trade of Asian antiques.
Get a feel of the glory of royal China, get some good bargains at the Portobello market and end this journey at London's world famous department store Harrods. If you are a shopoholic you couldn't ask for a better shopping spree.
Another feather in Suchitra's cap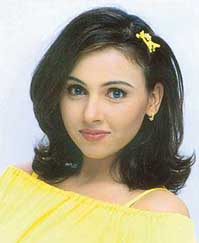 What a lady she's been. First on theatre where she did a number of musicals. Then as a top model and TV star of a hit serial like Chunauti followed by a dream break with Shah Rukh in Kabhi Haan Kabhi Naa. And then the hit albums Dole Dole, Dum Tara and A-Ha.
Small screen, big screen, theatre, music videos. And now a comeback. A decade after her last screen appearance Suchitra Krishnamoorthi is all set to take showbiz by storm.
She starts her second inning with a chat show Hum Aur Tum on Zee TV. No, she says, this isn't a celebrity show. "As the title suggest it's about people like you and me, not about Page 3 personalities," says Suchitra.
Apart from Hum Aur Tum, she'll soon be seen in two Ram Gopal Varma films, Galti Se and Jaan Boojhke. Then there's her new album Udle and a new stage play Candle Light. "I have scripted the best role for myself," confesses the brown-eyed beauty.
Model, actress, singer. What next? The spontaneous answer: "Astronaut." Let's fasten our seatbelts.
Jassi stuck in a rut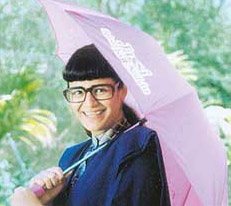 Here's a perfect example of how to spoil the viewers' party. Jassi Jaisi Koi Nahin that had fans mesmerised 9.30 to 10 p.m. four days a week seems to be losing out thanks to a storyline that seems to be going nowhere.
Sony sources fear that the serial that had cocked a snook at the 'K' supremacy on Star Plus could soon witness a sharp fall in its popularity ratings. Channel bosses are reported to have asked producers Tony and Diya Singh to move on with the story.
The serial has been going round in circles with the spineless Armaan Suri wooing Jassi in a bid to keep her away from the charms of Purab. The story has been stuck there for weeks and there are clear signs of viewer ennui.
In a bid to get it back on rails the producers are planning to bring in Vivek Oberoi and are hoping that he'll help push up the ratings the way Saif Ali Khan did sometime back. But alas, Vivek is no Saif and could end up doing more harm to the serial with his Elvis Presley buffoonery.
Big screen cold shoulders Sweta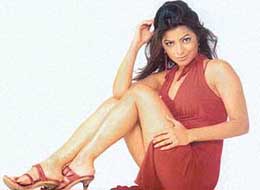 She's out to prove she's no dumb beauty but a smart mover. After her disastrous film debut in Love In Nepal Sweta Keswani has switched to the time-tested Bollywood success formula — doing an item number.
Having disappeared from the small screen after walking out of Des Mein Nikla Hoga Chaand and Kahani Ghar Ghar Kii, Sweta will now be seen shaking a leg in Tauba Tauba. "It's a catchy folksy number titled Qurbaan and I wear a really hot J-Lo kind of dress."
Sweta is very down-to-earth about her debut debacle. "I've lost all faith in my judgement after Love In Nepal."
Sweta is also doing Jackpot, a Raghu Romeo-kind of film shot in the DVD format. "It's about five guys and a bar dancer who plan a robbery. It's a mast sex comedy." Sure Sweta. Everything can fail in Bollywood except sex.
— NF