PUNJAB
HARYANA
JAMMU & KASHMIR
HIMACHAL
REGIONAL BRIEFS
NATION
OPINIONS
MAILBAG
BUSINESS
SPORTS
WORLD
Tuesday, July 27, 2004, Chandigarh, India
Updated at 3:00 am (IST)

Global Trust Bank to be merged with OBC
Mumbai, July 26
The troubled Global Trust Bank will be merged with the Oriental Bank of Commerce, the Reserve Bank of India announced on Monday.


Editorial: Bank burst


In video: Chidambaram says Global Trust deposits reasonably safe. (28k, 56k)


CAST YOUR VOTE
Should the RBI have intervened more aggressively in the Global Trust Bank issue?


EDUCATION
JOBS & CAREERS
HEALTH & FITNESS
FORUM
SCIENCE & TECHNOLOGY
SPORTS
WOMEN
TRIBUNE CLASSIFIEDS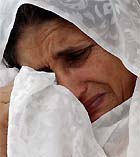 Zarina Akhter, mother of Sajid Naeem, one of the Pakistanis held hostage in Iraq, weeps in Islamabad on Monday. — Reuters
Captors extend deadline, warn India
New Delhi, July 26
As the Iraq hostage crisis entered the sixth day tonight, there were signs of delicate and result-oriented negotiations going on with the abductors of seven truckers, three of them Indians, and the threat to the captives' lives appeared to have receded.


Punjab page: Hostages in Iraq: prayers in HP, roads blocked in Punjab

Punjab wants more power to tide over crisis
New Delhi, July 26
Faced with a worsening power situation, Punjab today sought more allocation from the Central sector projects and an increase in share from the "unallocated" power reserve of the Centre.
In Jobs & Careers
BRIDES WANTED
GROOMS WANTED
OTHERS
HOW TO PLACE ADVTS
THE TRIBUNE MAGAZINES
On Sundays

On Saturdays

IN PASSING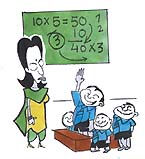 Ma'am, it doesn't matter how many men dig a canal in how many days. If it's SYL, the work will never finish.

by Sandeep Joshi
(Click to enlarge)
PSEB staff cool off in ACs despite ban

Drought: Centre rushes high-level team to Punjab

Punjab page: Declare Punjab drought-hit, says SAD


SPECIAL FEATURE
Fire: How safe are our schools? — A Tribune survey
As many as 90 children were burnt alive when fire engulfed Lord Krishna Higher Secondary School at Kumbakonam in Tamil Nadu on Saturday morning.

Water crisis likely to deepen
New Delhi, July 26
The north-western parts of the country, including Punjab and Haryana, have experienced 39 per cent less rainfall this monsoon and the prospects of its revival appear bleak in the next few days.


Opinions page: How to solve SYL dispute

Nation page: Punjab will abide by SC ruling, says CM

Haryana page: Ajay Chautala dubs Cong resignations on SYL as 'charade'
NDA not to join House panels
New Delhi, July 26
In an aggressive posture towards the ruling combine, the National Democratic Alliance leaders today decided to boycott all Parliamentary Standing and Consultative Committees to protest against what they described as the "confrontationist attitude" of the UPA government towards the opposition.
HC reserves verdict on Soren
Ranchi, July 26
The Jharkhand High Court today reserved its order on the writ petition filed by Jharkhand Mukti Morcha supremo and former Coal and Mines Minister Shibu Soren seeking quashing of an arrest warrant issued against him by a lower court.


Nation page: Warrant against ex-minister in 21-year-old case

Dalai Lama 'welcome' to Tibet sans privileges
Lhasa, July 26
The government of Tibet says that if the Dalai Lama accepts the preconditions set by the Chinese government and returns to Tibet, it will make "good arrangements" for him but he should not expect any special privileges because he has done "no good" for his country during the 45 years that he has been away from it.
In Education Tribune today
No power for industry in Haryana
July 26, 2004
Shibu Soren resigns
July 25, 2004
India, Pak vow to fight terror
July 24, 2004
India steps up efforts for release of hostages
July 23, 2004
Where is Sibu Soren?
July 22, 2004
Eradicate terror, India tells SAARC
July 21, 2004
Centre may go in for Presidential reference
July 20, 2004
Cap transfer industry, Manmohan writes to CMs
July 19, 2004
TN tragedy toll 90; five held
July 18, 2004
87 school kids burnt to death in TN
July 17, 2004
Fresh Godhra probe rocks Parliament
July 16, 2004