Calling that thrives on calls
Customer services like call centres are likely to generate 2,83,000 jobs by 2008 despite the reservations expressed in certain US quarters. With many call centres adopting measures to check the rising attrition rate and high stress levels, the BPO sector promises rapid and sustainable career growth, writes Shveta Pathak

CORPORATE CHAT
"Call centres a hub of positive work culture"
MOST of us keep striving to bring out the best in ourselves. But Debasish Das, Vice-President, HR and Training, Keane Worldzen, believes in bringing out the best in others.


CAREERCATURE
by Sandeep Joshi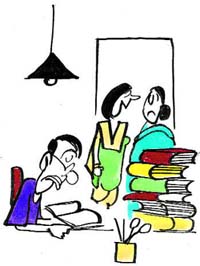 My son is preparing to join a coaching class on how to enter a coaching centre.


HOTJOBS
Accent trainers on the ascent
The BPO boom has not only generated employment for thousands of youngsters but also created the demand for various training professionals. Voice and accent trainers are highly sought after in the call centre industry. From helping modify the accent of tele-agents to designing training modules, the job of a voice trainer is a challenging one.


SMART SKILLS
Promise less, deliver more in a new job
Usha Albuquerque
Sagarika had completed her MBA from one of the most prestigious business schools. She got a job in a leading multinational bank as well. However, at the workplace she began to show a lot of arrogance and attitude. She had several teething problems and became very unpopular with her colleagues. So much so that she was politely asked by her boss to put in her paper. Despite being so well-qualified Sagarika couldnít keep her job!


CAREER HOTLINE
Enter the world of e-commerce
Q I am a student of Class XII interested in e-commerce. What are the basic skills required for this profession and its job prospects?


TALKING POINT
Should students earn and learn?

TITLE TRACK
Taking the Call: An Aspirantís Guide to Call Centers
by Roma Chadha
Tata McGraw Hill; pages 208; Rs 225
THIS is a comprehensive guide not only for people aspiring to enter or move up in the call centre industry but anyone wishing to upgrade communication skills. Split into 10 chapters, the book begins by examining the concepts and issues relevant to the BPO industry, like types of call centers, the career pathway, salary structure and so on.