Calling that thrives on calls
Customer services like call centres are likely to generate 2,83,000 jobs by 2008 despite the reservations expressed in certain US quarters. With many call centres adopting measures to check the rising attrition rate and high stress levels, the BPO sector promises rapid and sustainable career growth, writes Shveta Pathak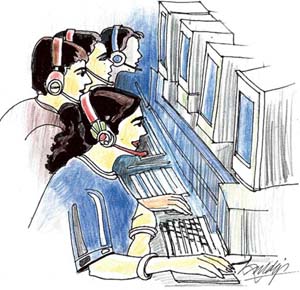 THEY are the creatures of the night. At first glance, you might mistake them for a bunch of party animals hurtling at breakneck speed to a country club. But peer closely: you are looking at a bunch of determined go-getters hurrying to their place of work to meet customer orders in different international time zones.
Mostly in their 20s, these trained professionals are leading a life their forefathers could only dream of. For instance, they don't have to wait till the end of the month to pocket their allowance; nor will they have to slog till they are in their 40s for the good life to begin.
Welcome to the Business Process Outsourcing (BPO) industry — the burgeoning call centre sector largely manned by youngsters in their 20s. Any graduate in his 20s from any stream, having a command over the English language and possessing verbal communication skills is eligible to knock at the portals of a BPO unit.
Emoluments
The rewards are a carry-home pay packet of Rs 8,000-Rs 10,000, free pickup, on-the-house meals, board and lodging. And this is for starters. You could be a director in eight years, which would mean a takeaway deal close to Rs 25-30 lakh per annum! Says Rashmi Soni, Team Head, Employee Communication, Hughes BPO Services, "If one is good, the BPO industry offers the fastest growth in the shortest possible time.'' Adds Rakesh Tulli, an avid BPO watcher, ''Each time you climb the corporate ladder, the salary jumps by 8 to 10 per cent, or even more. By the time one is sitting in the boardroom with senior managers, the pay could be around Rs 25,000 to Rs 30,000 per month.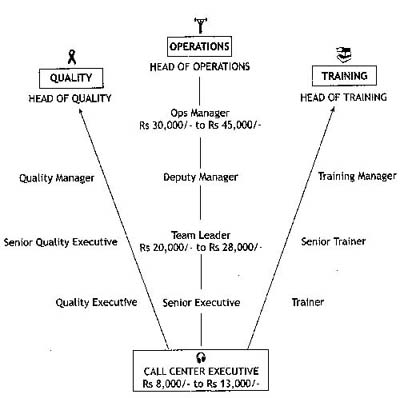 Courtesy: Taking the Call: An Aspirant's Guide to Call Centers
Vibrant ambience
It is not just money alone. The call centres offer an "exciting and pulsating" work environment with frills like cafetarias, gymnasiums, bowling alleys and excursions thrown in. Says Hena Alam of Keane Worldzen, "The culture of cafetarias and gymnasiums is a highly effective way of keeping the employees charged up. After the slog hours, it is party time.'' The job environment and ambience in India, she adds, is far better than that in the US or the UK, from where BPO work is primarily outsourced.
Industry prospects
As per industry estimates, customer interaction services, including call centres, are likely to generate employment for 2,83,000 youngsters by 2008, as against only 16,000 in 2001. Recent studies conducted by Nasscom say that the ITES-BPO segment will be the springboard of growth of the Indian ICT market, sustaining a growth rate as high as 40 per cent. Given the strategic cost advantage India enjoys the bubble is unlikely to burst.
Indian call centres are not restricting themselves to providing services only in English but also offering services in Spanish, French and German.
Forever a graduate
But this does not mean that you can be content being a graduate all your life. You need to keep acquiring educational and professional qualifications. "A director with a big company cannot be just a graduate," explains Hena.
While as an agent you would be handling call volumes and providing customer service, as a director you would be involved in overall functioning and decision-making."
Small cities
To tackle the menace of attrition, the big companies have started exploring the possibility of moving out of metros. Not only does the problem of attrition get addressed in smaller cities like Ludhiana, but it is a more cost-effective option as well. That explains the success of call centres in cities like Chandigarh and Jalandhar.
So, what are you waiting for? Just walk in for an on-the-spot interview.

Tackling attrition with 'earn and learn'
THE attrition in the call centre industry is as high as 50 per cent, as per industry estimates. Nearly 20 per cent of the employees move on to pursue higher studies; another 35 per cent do so as they are unable to cope up with the stress and pressures of the shift system. The rest hop on to greener pastures. According to a Nasscom Mc Kinsey report, the cost of replacing a knowledge worker is almost 1.5-2 times his salary. Most companies had worked out poaching agreements, so that one company did not raid the employees of the other.
But poaching no longer worries BPOs as much as the career plans of their fresh graduates. Result: The MNCs are trying to inculcate 'earn and learn' in their strategy.
Under 'Earn and Learn,' BPOs are entering into tie-ups with educational institutions and introducing sponsored academic courses for their employees. Wipro Spectramind has already taken an initiative in this matter.
Keane Workldzen too is offering to fund part-time and distance courses in collaboration with recognised institutes.
Hughes has tied up with Narsi Monjee in Mumbai and several other institutes to offer satellite-based programmes.
However, there is a rider: One can pursue these programmes only after putting in at least a year at a BPO. Also, one has to remain with the company during the course.