HOTJOBS
Accent trainers on the ascent
The BPO boom has not only generated employment for thousands of youngsters but also created the demand for various training professionals. Voice and accent trainers are highly sought after in the call centre industry. From helping modify the accent of tele-agents to designing training modules, the job of a voice trainer is a challenging one.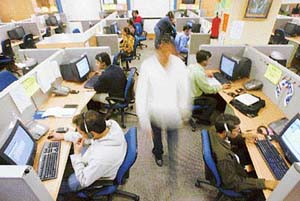 A BPO needs employees who are proficient in the language it uses to service its overseas clients. Since everyone has an accent, a BPO needs trainers to either neutralise the local dialect or help its employees acquire that phirangi twang.
Realising that the most important job in their line of business is to communicate effectively, the BPOs have euphemistically dubbed them Communication Trainers.
But a communication trainer's role extends beyond twirling the tongue and biting the lower lip while talking with a clipped British accent. Instead, trainers are expected to know what voice modulation is all about, its range, the timbre, the tonal quality and the resonance.
"The kind of accent that is required — American or British — depends on the kind of business a company is handling. But as far as the trainer is concerned, he must know the distinction between the two. After all, we are talking of specialists," says Hena Alam of Keane Worldzen.
It is important for the client to think that the call is emanating a few blocks away and not in some mofussil town of the Indian subcontinent. The BPOs are, therefore, increasingly laying stress on accent neutralisation. The preference is for trainers who have stayed in the US or the UK: it helps them meet specific requirements.
Aiding accent
Says Roma Chadha, who has done her Masters in Communication Management from the USA and worked as consulting trainer with several call centers in India, "To become a voice trainer, one must have an excellent command over English, a sensitive ear tuned to nuances of accent and an ability to communicate with large groups."
Explains Vinay Kapoor, who works as a trainer, "Apart from proficiency in the English language, it was primarily the American accent I acquired during my stay in the US that enabled me to get this job."
Voice modulation being an integral part of the call centre business, the demand for communication trainers is on the rise. And since it is a nascent industry, "the right kind of people" are in short supply. "A voice trainers job entails, among other things, neutralizing of regional accents and moderating the rate of speech," says Roma, who has also authored a book on call centres.
Quick rise
Freshers are not preferred for the simple reason that one is required to handle and train teams. A communication trainer with three years of experience joins at the middle level in most cases. Then, he graduates to become a training manager, where the role expands to organising schedules, training programmes etc. At the senior level, the trainer finds himself increasingly involved in managerial tasks.
The role diversifies as one moves up the corporate ladder. Since a Voice Trainer is deemed to be a specialist, he is better placed professionally than greenhorns in a call centre. The start is anything between Rs 12,000 and Rs 20,000 every month plus other emoluments.
Flip side
It is a demanding job though. The flip side includes erratic working hours, crazy schedules when large batches have to be trained in quick succession and the expending of high levels of energy when one has to speak for hours together.
Mostly passouts from language training institutes in call centers are hired as Voice Trainers. Interestingly, some leading call centres even appoint former flight stewards as communication specialists.
So, all you require is the ability to communicate and a modicum of specialisation to be in this interesting line. Who says, it does not pay to have an accent?
— Shveta Pathak