PUNJAB
HARYANA
JAMMU & KASHMIR
HIMACHAL
REGIONAL BRIEFS
NATION
OPINIONS
MAILBAG
BUSINESS
SPORTS
WORLD
Wednesday, July 28, 2004, Chandigarh, India
Updated at 3:00 am (IST)

Surplus Delhi, MP power for Punjab
Starts getting 200 MW from western grid
New Delhi/Patiala, July 27
The Centre has come to Punjab's rescue in coping with the difficult power situation by assuring to give "off-peak power surplus" from Delhi and Madhya Pradesh. The Centre was also favourably inclined to the state's demand of power from the Rajasthan Atomic Power Station, Punjab government officials said.


Aid for drought-hit states

Opinions page: Why PSEB is in a financial mess


CAST YOUR VOTE
Is the NDA decision to boycott all parliamentary committees justified?


EDUCATION
JOBS & CAREERS
HEALTH & FITNESS
FORUM
SCIENCE & TECHNOLOGY
SPORTS
WOMEN
TRIBUNE CLASSIFIEDS
BRIDES WANTED
GROOMS WANTED
OTHERS
HOW TO PLACE ADVTS

India in Asia Cup final
Colombo, July 27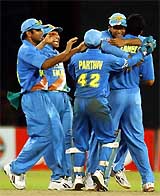 Virender Sehwag shone with bat and ball as India beat Sri Lanka by four runs in their Asia Cup clash on Tuesday to book their place in the final against the same opponents.


Sports page: India pip Sri Lanka to move into final

Indian players celebrate after winning the match against Sri Lanka at the Asia Cup in Colombo on Tuesday. India won by four runs to qualify for the final. — AP/PTI photo

No breakthrough in Sino-Indian talks
New Delhi, July 27
India and China today completed the third round of their political-level border talks wherein the two countries' Special Representatives — National Security Adviser J.N. Dixit and Vice Foreign Minister Dai Bingguo — had candid discussions.
NDA emits truce signals
Asks govt to withdraw Pranab's statement
New Delhi, July 27
The NDA today emitted truce signals to end impasse on its stand to boycott various Parliamentary Committees.


Editorial: Not by boycott
THE TRIBUNE MAGAZINES
On Sundays

On Saturdays

IN PASSING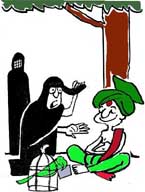 We are from the met office. Can you please predict the exact date of rain?

by Sandeep Joshi
(Click to enlarge)
Centre to evolve code of governance for states
New Delhi, July 27
The UPA government is currently evaluating proposals for evolving a "code for good governance" in all states and Union Ministries in line with reforms in governance, including a better delivery mechanism, so that benefits of all government schemes can percolate to the common man.
Four of family brutally killed near Rohtak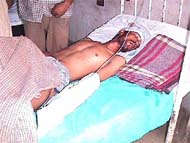 Lakhanmajra, July 27
Four members of a family, including two women and a child, were brutally murdered and another member was seriously wounded at Lakhanmajra village, 19 km from Rohtak, late last night.

Amardeep of Lakhanmajra village undergoes treatment at the PGIMS, Rohtak, on Tuesday. His father, mother, wife and son were shot dead by unidentified gunmen in the village on Monday night. — Photo by Ramesh Bhardwaj

Two brothers of Kohli arrested


Mohali, July 27
The Punjab Police today arrested the two brothers of Maninder Pal Singh Kohli, prime suspect in the rape and murder of British teenager, Hannah Foster.
Homage paid to martyrs on Vijay Divas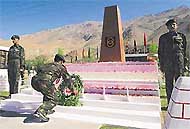 Srinagar, July 27
Vijay Divas was observed by the Mountain Division at Dras yesterday to pay homage to the Army personnel who had laid down lives in the Kargil war in 1999.

An Army officer lays wreath at the war memorial in Dras sector in the memory of the soldiers who laid down their lives in 1999 during Kargil war. — Photo by Amin War

In Health & Fitness today
Global Trust Bank to be merged with OBC
July 27, 2004
No power for industry in Haryana
July 26, 2004
Shibu Soren resigns
July 25, 2004
India, Pak vow to fight terror
July 24, 2004
India steps up efforts for release of hostages
July 23, 2004
Where is Sibu Soren?
July 22, 2004
Eradicate terror, India tells SAARC
July 21, 2004
Centre may go in for Presidential reference
July 20, 2004
Cap transfer industry, Manmohan writes to CMs
July 19, 2004
TN tragedy toll 90; five held
July 18, 2004
87 school kids burnt to death in TN
July 17, 2004
Fresh Godhra probe rocks Parliament
July 16, 2004