Kohli's brother suspended
Chandigarh, July 28
The Punjab Police has reportedly placed under suspension constable Ishtpreet Singh, accused of harbouring and monetarily assisting his brother Maninderpal Singh Kohli, while he was on the run after allegedly raping and murdering British school girl Hannah Foster.

Pakhoke summoned for 'back-door entry' of staff
Amritsar, July 28
The Sikh Gurdwara Judicial Commission has ordered summoning of Mr Alwinderpal Singh Pakhoke, working president, SGPC through 'Munadi' (by beat of a drum) in connection with the recruitment of 111 employees allegedly violating the bylaws of Sikh Gurdwara Act 1925.

SGPC, CMC not to accept Majithia panel report


Chandigarh, July 28
While the management of the Christian Medical College, Ludhiana, has already decided not to follow the orders of the Justice G.R. Majithia-led Committee for Overseeing the Entrance Test Conducted by the Association of Private Professional Colleges, the Shiromani Gurdwara Parbandhak Committee has also decided to go against the committee's judgement.

We can't afford to have more bloodshed in Punjab: CM
Chandigarh, July 28
During the period between June,1984,and December, 1994, as many as 777 personnel of the Army, paramilitary forces and Punjab Police were killed in the three police districts of Majitha, Amritsar and Tarn Taran. The number of security personnel alone killed in Punjab during internal disturbances was about 1,850.

Amarinder refutes reports on terrorism
Chandigarh, July 28
Punjab Chief Minister Amarinder Singh today strongly refuted news reports attributed to him by a section of the press that terrorism would return to Punjab if the Supreme Court rules against the Punjab Termination of Agreements Act-2004 passed by the state Assembly on July 12.
Dr S.S. Johl resigns
Chandigarh, July 28
The Deputy Chairman of the Punjab State Planning Board, Dr S. S. Johl, has submitted his resignation. The reason given by him for quitting this post in his resignation letter addressed to the Chief Minister, dated July 8, was that he did not find himself ''relevant to the system of your governance''. It is ironic that till date no one from the Punjab Government has bothered to contact Dr Johl who had the rank of Cabinet Minister.


Kanwaljit blames govt for power crisis
Patiala, July 28
Former Punjab Finance Minister, Capt Kanwaljit Singh, has demanded a special package from the Central Government for Punjab, saying the state had suffered badly due to drought like conditions.

Indo-Pak seminar flays hike in defence budgets
Amritsar, July 28
Expressing deep anguish over the steep hike in the defence budgets by both India and Pakistan, a seminar on "Indo-Pak peace process: possibilities and challenges", organised by the Folklore Research Academy today called for waging a joint war against poverty, eradication of illiteracy and unemployment. They also emphasised the need for creating permanent thaw in the region.


In video: Communists term NDA's demand to drop "tainted" ministers a mere propaganda. (28k, 56k)
Posing as Sonia's PA, he took leaders for a ride!
Phagwara, July 28
He took both administration and ruling party leaders for a ride. He posed as a personal assistant of Ms Sonia Gandhi, AICC President and enjoyed VVIP hospitality for three days. He walked into offices for checking, authoritatively enquired about the law and order situation but vanished just before he could be caught.
Rise above party politics, DC asks villagers
Fatehgarh Sahib, July 28
All state and Central government-sponsored schemes will be implemented at the grassroot level in the district. It will be ensured that the benefits of these schemes reach the real beneficiaries, said Mr S.K. Ahluwalia, Deputy Commissioner, while implementing the Rajiv Gandhi Gramin Yojna in the district by laying the foundation stone of 125 latrines to be constructed at Nabipur village, 10 km from here, today.


CIIP plans focus on legal research
Chandigarh, July 28
Working in Punjab since 1988 on the issue of state atrocities, besides the lack of accountability and culture of impunity, the Committee for Information and Initiative on Punjab (CIIP) today declared that the organisation would no longer associate itself with the tasks of documenting cases pertaining to those who disappeared in the state.



Mr Ram Narayan Kumar and Mr Ashok Aggarwal of the Committee for Information and Initiative on Punjab at a press conference in Chandigarh on Wednesday. — A Tribune photograph
Teacher attacked by student
Amritsar, July 28
Mr Harinderjit Singh Marok, a computer programmer at Government Polytechnique here, was allegedly attacked by a student of the mechanical department along with two other unidentified persons when he was returning home.
5 rag pickers killed, 2 hurt in explosion
Pathankot, July 28
Five rag pickers were killed and two injured, one of them seriously, when an explosive device they were trying to disintegrate went off here today. While one of the rag pickers, Dalip, died on the spot, the other four died in the hospital due to excessive blood loss.
Report sought on liquor vend in school
Jalandhar, July 28
The Excise and Taxation Department has sought a detailed report from the Divisional Excise and Taxation Commissioner (DETC) concerned regarding the operation of a liquor vend from the building of Cantonment Board Elementary School, near Rama Mandi chowk, here.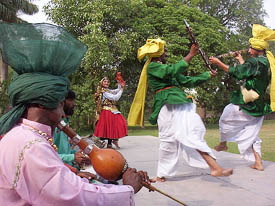 Artistes from Rohtak perform a Haryanvi dance during the selection for the NZCC at Sheesh Mahal in Patiala on Wednesday. — Photo by Rajesh Sachar
Doctors sit on dharna
Batala, July 28
Doctors and paramedical staff of the local Civil Hospital sat on dharna today for two hours to demand arrest of Harpreet Singh Goldy, the P.A to the former minister Punjab, Mr Ashwani Sekhri. The protesters gave in writing to the Senior Medical Officer, Civil Hospital, Batala, Dr J.S. Sudana, that the members of the staff would continue to sit on dharna till Goldy was arrested.
Workers' union flays transport authorities
Patiala, July 28
The Pepsu Road Transport Corporation (PRTC) Workers' Union today alleged that the PRTC was facing a loss of Rs 100 crore per annum due to without-permit plying of private buses in the state.
26 booked for blocking drainage
Kharar, July 28
A case was registered on charges of causing obstruction to public drainage against 26 persons here last night.
Traffic seminar for PSEB staff
Patiala, July 28
The traffic police organised a seminar at the Punjab State Electricity Board (PSEB) Headquarters here yesterday to create awareness about the need to obey traffic rules.
High Court
Punjab Bill
Chandigarh, July 28
The High Court on Wednesday adjourned sine die the hearing of the public interest litigation (PIL) challenging the Punjab Termination of Agreements Bill 2004.
Nepalese implicated in false case released
Amritsar, July 28
The Napalese national, Sudheman Kami, who was allegedly chained and kept in illegal detention and later booked for possessing illicit liquor by the Civil Line police here, has been released by the police here today.


950 tubewells go dry in Mansa, reports Central team
Jatana (Mansa), July 28
Two to three years ago the entire stretch of agriculture land of this village and its surrounding villages was waterlogged about two to three years ago. The fields had become unfit for cultivation.
Angry farmers gherao SDO
Moga, July 28
Angry over the delay in the replacement of a transformer, members of the Kirti Kisan Union today gheraoed the SDO of Dagru subdivision of the Punjab State Electricity Board (PSEB). Addressing the gathering, the union leaders said while on one hand, the nature was playing havoc with the farmers' crops, on the other, the electricity board was "deliberately harassing" the farmers.
Farm labourers held rally
Amritsar, July 28
A large number of farm labourers held a rally and staged a dharna in front of the public distribution system and block development and panchayat offices in the Rayya block, about 32 km from here, yesterday.


Woman commits suicide, 4 booked
Moga, July 28
A married woman committed suicide by consuming some poisonous substance at Bedi Nagar here yesterday. However, the victim's brother has alleged that her in-laws poisoned her to death.
Man murdered
Patiala, July 28
A 38-year-old man was found murdered in a minor garage near Hotel Godwin here today.


Medical Education Dept to supervise PMT
Patiala, July 28
The Punjab government will take the PMT examination to held on August 1 for admission into Medical Colleges in the State, outside the purview of the Baba Farid University. The government has decided to be supervise the examination process — from the holding of the test to the evaluation of the answer sheets to fail manipulation.
Panel fails to fix MBBS tuition fee
Ludhiana, July 28
Though the Medical Council of India (MCI) has directed the medical institutions in the country to complete the admission to MBBS first year by July 31 and start the first semester from August 1, but PMET in Punjab will be conducted by Baba Farid University Of Health Sciences on August 1.


Quota notification agitates aspirants
Amritsar, July 28
A sudden notification by Guru Nanak Dev University of 15 per cent quota for "management seats" led to angry protests by B.Ed. aspirants who had come from various parts of the state for counselling this morning. Agitated aspirants said the university had suddenly announced the management quota or "paid seat" of which 18 unaided private colleges would be beneficiaries.

B.Ed aspirants protest against a quota notification outside the counselling hall at Guru Nanak Dev University in Amritsar on Wednesday. — Photo by Rajiv Sharma
Pbi varsity VC to appear in admissions' case
Patiala, July 28
Punjabi University's Vice-Chancellor Swarn Singh Boparai will plead the case of under-privileged residents of Talwandi Sabo, Bathinda district, with regard to admission to Yadvindra College of Engineering there before a Talwandi Sabo sub-judge on July 30.
VB arrests Principal on graft charge
Jalandhar, July 28
The Vigilance Bureau (VB) yesterday caught a government school Principal red-handed while accepting a bribe of Rs 5000 each from two teachers for clearing their files regarding the issuance of no-objection certificate (NoC).
Varsity ignores order on power
Amritsar, July 28
Even as Dr S.P. Singh, Vice-Chancellor of Guru Nanak Dev University, ordered university staff, including teaching and non-teaching, to adopt austerity measures in view of power crisis, counselling staff of the ongoing B.Ed counselling and principals of some colleges who had arrived here in the early morning were in cool environs air-conditioned halls today.
DEO checks fire safety steps in schools
Muktsar, July 28
District Education Officer, Muktsar, S.K. Mehta visited a number of private schools here yesterday and directed them to follow the directions issued by the Deputy Commissioner a few days ago regarding fire safety steps.
Unemployed teachers block traffic
Bathinda, July 28
Hundreds of members of the Berozgar Elementary Teachers Union, and members of DIET Students Welfare Association, Punjab, today jammed traffic for about two hours on the bridge on the Bathinda branch of Sirhind canal on Bathinda-Malout road to lodge their protest against the state government's policy to recruit teachers on contract basis.
Irregularities in PTA funds alleged
Phagwara, July 28
Mr Manmohan Sharma, President of the PTA, Govt Senior Secondary School for Boys, Phagwara and local Block Congress Committee (Urban), today demanded a high-level probe into the alleged financial irregularities in the PTA fund and the funds related to students welfare by the Principal of the school Ms Harbhajan Kaur.


Punjab to set up wood markets
Patiala, July 28
The Punjab Forest Department has decided to set up "lakkar mandis" (wood markets) in all important cities and towns of the state to encourage agri-forestry as a means of diversification.
Shopkeepers extend closing time
Fazilka, July 28
A meeting of the Beopar Mandal, Fazilka, was held here last night. Representatives of 24 traders' bodies also participated. At the meeting it was resolved that the Punjab Government decision asking all business establishment to wind up their work by 6 p.m. due to power crisis is unilateral, arbitrary and thoughtless.