M A I N N E W S
Nihang chief Poohla held
Varinder Walia
Tribune News Service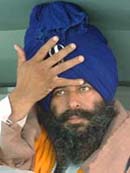 Controversial Nihang chief Baba Ajit Singh Poohla, who was arrested from Baba Bakala (Amritsar) by the Nawanshahr police on Thursday. — Photo by Rajiv Sharma
Baba Bakala (Amritsar), July 29
Controversial Nihang chief of Taruna Dal Baba Ajit Singh Poohla was arrested today from his headquarters at Jhutha Kartarpur, near here, in a joint raid conducted by the Nawanshahr and the local police with active support of ex-servicemen.
He has been arrested in connection with the brutal murder of Nihang Sukhdev Singh at Mazaar Sayeed Jora Peer Behram in Nawanshahr police district on June 20, 2002.
The Nihang chief was arrested along with his two aides Gurmel Singh and Onkar Singh when they were asleep at about 6 a.m.
Activists of the Poohla Eviction Committee had been keeping watch on the activities of Baba Poohla for the past few days. Once his location was confirmed they informed the SSP, Nawanshahr, Mr M.M.
Farooqui, on his cellphone at around midnight, who immediately dispatched police parties to Baba Bakala under DSP (D) Jagtar Singh.
At least 30 of his followers accompanied him when he was taken to Nawanshahr. He was arrested under Sections 302 and 34 of the IPC registered against him on January 20, 2002.
The Nihang chief has been sent in police remand till August 2.
Jathedar Deep Singh, who had disowned Baba Poohla and considered him a usurper of the title of the head of Taruna Dal, said Baba Makhan Singh was the chosen head of Taruna Dal now. He said the local Nihangs of Taruna Dal also helped the committee ex-servicemen and police to arrest the controversial Nihang chief.
During peak of militancy Poohla had been issued at least 18 weapons, including a light machine gun, a general purpose machine gun, an AK-56, six SLRs. However, these were withdrawn by the police following registration of fresh cases.