AUDIO/VIDEO SCAN
In celebration of fusion
Celebration (Music Today)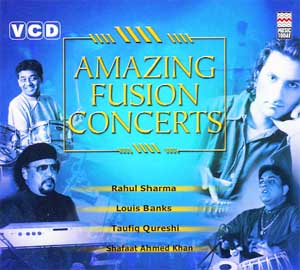 Swar Utsav held at India Gate last year brought together the mesmeric magic of santoor maestro Rahul Sharma, keyboards wizard Loius Banks, percussion authority Taufiq Quereshi and tabla exponent Shafaat Ahmed Khan. Music Today has now brought those memories alive with the VCD Celebration.
Thanks to superior recording, the event comes alive in all its majesty, although watching such a performance on the TV is never the same as the real thing.
Nothing symbolises the spirit of celebration like the opening number, Sing With Us, based on Raga Bhairavi. On the other hand, Just Dancing, set to Raga Kirwani, salutes the spirit of rhythm, melody and flow. The fusion takes a romantic turn with Love Beckons. One can almost feel the spasms of infatuation. These later swing to the primordial expression of joy in Strums 'n Drums, where strings give way to drumming and all the artistes rise to a crescendo of celebration.
Kyun Ho Gaya Na (Tips)
Here is a tribute to the musical legacy of Goa by Shankar-Ehsaan-Loy. They use the source material beautifully. Since the film stars Amitabh Bachchan, most of the songs have been tailored to suit his personality.
The title song is the finest example of fusing exuberance with inherent sadness of great music. What makes it all the more memorable is the fact that it has been sung by newcomers like Kunal Ganjawala, Dominique Cerejo, Loy Mendonca, Chetan Shashital and Shankar.
Another unusual song is Baat samjha karo (Chetan Shashital, Shankar Mahadevan and Javed Ali). The change of pace is delightful in Pyaar mein sau uljhane hain (Vijay Prakash, Mahalaxmi and Sneha Pant).
Ghazal Ka Safar (Times Music)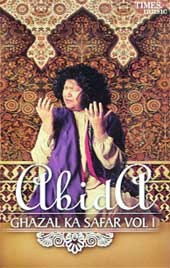 Listening to Begum Abida Parveen sing ghazals is not the same as listening to her Sufi songs. Perhaps the weakness lies in the listener's ears since we have gotten used to the full-throated renditions, whereas in ghazals she is more structured and restrained.
But still she is miles ahead of the pack.
All the ghazals in this two-volume set bear her unmistakable stamp.
In the first, she sings handpicked verses of Ghalib, Mir and Chishti's disciple Siraj Aurangabadi.
Perhaps the finest of the lot is Mirza Sauda's Ooe soorate ilahi. Also included in the album is a ghazal by Wali Dakkani, who pioneered Urdu poetry in India.
The second album covers seven other poets. These include Allama Iqbal, Faiz Ahmed Faiz, Daag Dehlavi, Momin, Bahadur Shah Zafar, Jigar Muradabadi and Nasir Qazmi.
What a bouquet it is. — ASC