FASHION
Heady styles
Saloni Kaul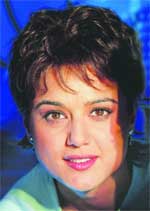 Preity Zinta's unusual chimney-nest hairstyle in Farhan Akhtar's Lakshya has captured the imagination of young working women across India. Till the other day, all those who sported buns and pony tails have suddenly got adventurous and are doing strange things to their hair. Never mind if they end up creating beehives, poodle-cuts and frizzies on their heads.
However, not many realise that much of what women carry on top of their heads was originally created way back in the 6th century BC — a product of the influence of Greek and Roman hair stylists. Even the intricate hair nets owe their origins to the same sources.
"Fortunately, specimens of hundreds of hair designs over the ages have been depicted in Indian sculpture and paintings," informs 62-year-old Bela Dutt, one of the most respected names in Indian hair styling. "I merely try to give my own interpretations to them."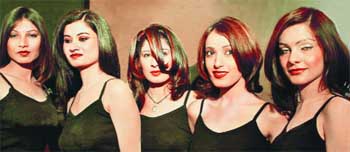 In the spacious living room of her Mumbai house, Bela displays evidence of her hair-raising obsession on a marble table: assorted combs in wood, metal and ivory, hair tassels, hair festoons, hair nets, hair pins, hair knot -easers and lice removers.
Bela is most popular for her interpretation of the classical top knot. "Tie the hair a little high in the centre of the hair and make a large doughnut," she advises. "Then take a smaller doughnut and entwine false hair around it. Arrange the small doughnut exactly over the larger one."
For embellishments, she suggests placing jasmine garlands over the larger doughnut and a silver ornament on the smaller doughnut for added effect. In order to create the kind of beady dots seen on statue foreheads, she suggests twirling the front hair and fixing it with beeswax.
Grass look: Hair smoothened (to give shine) is lifted to crown level and separated into three top knots in a triangular shape. This gives a central base section "to place some oasis", which is decorated with twisted willow, gentisa and bay grass. Each of the knots is secured by grips and smoothened with spray.
Wet look: Hair is gelled to create a wet look. Then triangular sections are lifted and twisted for a rope-like effect and secured by grips before being decorated with chrysanthemums, hyaci-nths and gentisa.
Hat trick: A hair piece is gelled, sprayed and dried, then sculpted into a hat shaped top knot and secured centrally by grips. Then small sections are taken around the head and twisted into fine rope-like strands, which are lifted up and into the hat, The rest of the hair is casually woven around hyacinths and delicately placed over the hat to give an asymmetric feel. Very fine wire is used to hold the flowers in place.
Much as these styles would seem avant garde by Indian standards, these conform to current trends of leaving the face exposed. (MF)