PUNJABI ANTENNA
Soap scene to spice up
Randeep Wadehra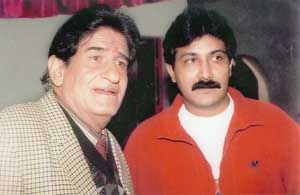 A scene from Naseehat
Family soaps seldom go out of fashion as these are assured of a committed audience and, hence, respectable TRPs. However, of late, the soap scene on Punjabi channels has been rather dismal. But a revival of sorts seems to be in the offing. Naseehat, which tackles assorted social evils, is coming soon on DD Punjabi. With Sandeep Chugh, Meher Mittal, Sameep Kang and Saroop Parind (Atro of the Atro-Chatro fame) starring, one can expect wholesome entertainment on the small screen.
Last fortnight I'd lamented the lack of original ideas for gameshows. Well there's an exception, albeit for one time only. Next Adventure Sports on MH1 took viewers for a bit of Tarzan Swing, Burma Bridge, Spider Web and Monkey Crawl that reminded one of the SSB drill for the armed forces. Moreover, there were other sports like dirt track motorbike racing and bungee jumping, yes Bungee Jumping, all the way from New Zealand to the heart of Delhi. Only, here a mechanical contraption substituted for the real thing. Another disappointment was that none of the sports was demonstrated live.
While watching talk shows, especially the phone-in types, one begins to marvel at the way anchors greet. 'Hi' is ok and 'hello' is certainly the accepted form of salutation, but hell-yoh, hellew, hawloo, hall-yooo, hellyow etc make you wonder whether there's any logic in such desperate attempts at inventing such wacky 'n' weird sound bytes. Form is important, but content vital. Right?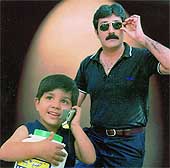 Sandeep with his son Sampark
Sampark, alias Badshah, has done ads like Asiacol and acted in Ishq Nimana with his father Sandeep Chugh. Sandeep was adjudged Mr Chandigarh in 1995. He was the leader of the award-winning PU bhangra team and has about 13 years of theatre experience. He has modelled for prestigious textiles and IMFL brands.
Sandeep made his television debut in Ishq Nimana in 1990 and hasn't looked back since. Among his forthcoming serials are Rahu Ketu and Naseehat. Sampark, of course, would like to focus on his studies and treat acting assignments as prelude to bigger things in future.