Uncrippled willpower
Vikramdeep Johal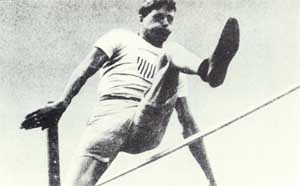 Ray Ewry excelled in the standing jumps even though polio confined him to a wheelchair in his childhood.
Remember that scene from Forrest Gump, in which an adolescent Forrest, with his legs in braces, is chased by a bunch of rowdies in a car? Spurred on vociferously by his friend, he somehow draws Herculean strength to break into a run. His braces snap off, and he runs, and runs and runs. Hard to believe, isn't it? Well, even more incredible things have happened in real life, on the Olympic stage in particular.
The success stories of some Olympians have to be heard to be believed. At one time, it was difficult for them to even walk or eat, let alone competing at the highest level. However, physical disability failed to deter them from dreaming big; instead it made them mentally stronger. Propelled by their will power, they achieved glory in the face of seemingly insurmountable odds. They could have resigned themselves to their fate, but they chose to defy it.
American sprinter Wilma Rudolph was born prematurely, the 20th of her father's 22 children, and she weighed only 2 kg at birth. She suffered polio, double pneumonia and scarlet fever, which rendered her left leg useless. From the age of six, she had to wear a brace. Her mother, brothers and sisters tried to help her, giving her leg rubs everyday. Eventually, she wore an orthopaedic shoe and started playing basketball with her brothers. One day, her mother returned home to see her playing the game barefooted, having thrown away her corrective shoe. Having "found her feet", Wilma moved on to athletics. The rest is Olympic history. She went on to win the 100m, 200m and 4x100m relay gold at the 1960 Rome games.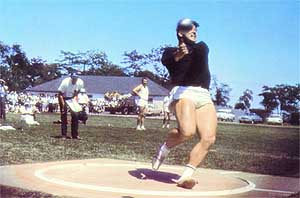 Harold Connolly won the hammer throw gold despite having a left arm that was merely a useless stump
Ray Ewry contracted polio as a small boy and remained confined to a wheelchair for a while. It was feared that he might be paralysed for life, but he proved all speculations wrong through dogged determination. He won the standing long jump, the standing high jump and the standing triple jump at the 1900 and 1904 Olympics in Paris and St Louis, respectively. When the standing triple jump was scrapped, he had to settle for two gold at the 1908 London games. The standing jumps were discontinued altogether after the 1912 Stockholm Olympics, but that did not take anything away from Ewry's effort, which underlined the triumph of the human spirit.
Other sportspersons who scoffed at polio to become Olympic champions include Walter Davis, who won the high jump in 1952, and swimmer Shelly Mann, who clinched the 100m butterfly gold at the Melbourne Games.
New Zealander Murray Halberg was hit from behind in a crash tackle during a rugby match when he was 17. It left him with a dislocated shoulder, ruptured veins and arteries, blood clots and a paralysed left arm. After two months in hospital and two operations, he was released with a withered arm and shoulder. He had to virtually start from scratch, relearning how to walk, run, dress and feed himself. Unable to take part in contact sports, he focused on running and made it to the 1956 Olympics. Four years later, in Rome, he won the 5,000m race.
Hammer thrower Harold Connolly won the gold at the Melbourne Games despite having a stump of a left arm that was two-thirds the size of the right one. He had fractured it 13 times as a child and it had never healed properly. But it hardly proved to be a hurdle for the American.
While on duty as a policeman in 1946, Hungarian wrestler Miklos Szilvasi was accidentally shot in the left leg by a colleague with a machine gun. His left foot was temporarily paralysed. Through regular exercise, he regained the use of his foot and competed in the 1948 London Games, only to lose to Sweden's Gosta Andersson in the final bout. In the Helsinki Olympics, he turned the tables on the Swede to win the gold.
Another "magnificent Magyar" was Karoly Takacs, who bagged the rapid-fire pistol shooting gold at the 1948 Games. His feat was nothing short of a miracle, considering that 10 years earlier, while serving as a sergeant in the army, a grenade had exploded in his right hand and shattered it completely. Undeterred, he taught himself to shoot with his wrong hand — and how!
Weightlifter Tommy Kono, a Japanese-American, was a sickly child who suffered from asthma. His parents tried various cures, including traditional Japanese ones like bear kidneys, burned birds and powdered snakes, but to no avail. During World War II, he and his family were forced to leave their home in Sacramento and move to a detention camp. It was there that 14-year-old Tommy took up weightlifting. He bagged the gold in 1952 (lightweight) and 1956 (light heavyweight) and a silver in the middleweight category at the 1960 Games.
American decathlete Rafer Johnson was only 12 when his left leg got crushed in a peach conveyor belt. Doctors saved it from being amputated, but it never healed fully. Nevertheless, Johnson showed he was the best all-round athlete in the world, winning the decathlon title in Rome with a record score.