PUNJAB
HARYANA
JAMMU & KASHMIR
HIMACHAL
REGIONAL BRIEFS
NATION
OPINIONS
MAILBAG
BUSINESS
SPORTS
WORLD
W O R L D

Kerry vows to restore credibility of White House
Washington, July 30
Vowing to restore "trust and credibility" to the White House, Senator John Kerry accepted the Democratic presidential nomination and promised never to "mislead" his countrymen into war.
Top Al-Qaida man held in Pak
Islamabad, July 30
A top al Qaida militant of the Tanzanian origin, carrying a $ 25 million reward for bombing US embassies in Kenya and Tanzania in 1998, was arrested from a hideout in Pakistan's town of Gujarat, President Pervez Musharraf has said.


In video (28k, 56k)

Bangkok Diary
Hostage crisis keeps phones ringing
THE developments in Iraq spoiled the sleep of mandarins of the Government of India and kept phone lines between New Delhi and here busy.
PM's team

Naga talks

Busybee Kamal Nath

Knowledge economy

Gursharan Kaur, wife of Prime Minister Manmohan Singh, being greeted by students of Thai Sikh International School in Bangkok on Friday. — PTI photo

Turbaned Sikhs can serve US police
Los Angeles, July 30
A new door opened for the Sikh community in the USA on Sunday when the "Sheriffs" Department allowed Sikhs to serve in it with turbans and beards. Jagjit Singh became the first such Sikh officer in the US police.


Sikh police officers Jasjit Singh Jaggi (left) and Amrik Singh Rathour (right) of the New York Police Department address a press conference at One Police Plaza in Manhattan on Thursday. Jasjit Singh Jaggi won a landmark case against NYPD which now allows him to wear a turban at work.
— PTI photo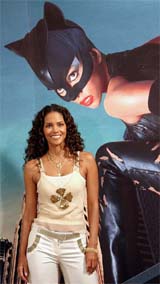 Hollywood actress Halle Berry poses during a photocall to promote her latest movie Catwoman in Barcelona on Friday. The movie opens in Spain on August 6. — Reuters





India, Pak to identify new visa categories
July 30, 2004
Iraq blast leaves
68 dead
July 29, 2004
Indian job-seekers languish in Iraqi jails
July 28, 2004
Flexible talks wise, says Pervez
July 27, 2004
Iran rejects 9/11 report on Al-Qaida
July 26, 2004
No agent in Al-Qaida's inner circle, says CIA
July 25, 2004
CBMs useless without settling Kashmir issue, says Pervez
July 24, 2004
Natwar Singh meets Musharraf today
July 23, 2004
UN Assembly asks Israel to tear down barrier
July 22, 2004
Israeli forces kill Hizbollah fighter
July 21, 2004