M A I N N E W S
Road blockade continues in Una
Vijay Mohan
Tribune News Service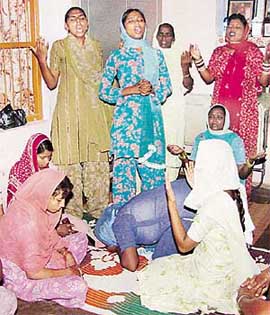 Antaryami's wife, Kusum (extreme left in pink suit) along with village women during a prayer meeting at Dehlan village near Una on Saturday. — Tribune photo by Manoj Mahajan
Una, July 31
As the family of Antaryami, being held hostage in Iraq, passed another night of distress, village women assembled at his house today morning for a prayer meeting, chanting hymns and invoking the grace of God for hostages' safe return.
"We will wait till evening to see if the deadline for his execution is further extended," Antaryami's uncle Ram Dass said. "If the deadline is extended indefinitely, we would urge the villagers to lift the blockade. If not, then the villagers would decide on the next course of action," he added.
Discounting reports of the family or the villagers having been politically motivated, he said their actions had not been dictated by any politician. "The villagers resorted to protests only because Antaryami hails from this village and they are only lending us moral support," he said.
The Nangal-Una highway, which passes through Antaryami's village Dehlan, continued to remain blocked, while traffic resumed on other routes to and from Una. Shops and business establishments which remained closed throughout Una yesterday have started functioning.
While public attention remains focused on Antaryami's village and family, Ms Promila Devi, the wife of another hostage, Tilak Raj is quitely recuperating at Una district hospital. She was brought down from Kangar village after she went into shock on hearing about the husband's situation.
Antaryami's mother, Bhago Devi is still admitted to the hospital. Doctors said that both women were suffering from tension and mental agony, but were physically fine.
PTI adds: Meanwhile, tension gripped the Mehatpur and Dehlan area of Una after a Tempo driver, trying to take his vehicle through the blockade, assaulted an agitator with a sharp-edged weapon, seriously injuring him.
The incident took place at Bhadolian near Dehlan, the village of Antaryami.
The driver fled the scene and disappeared into the fields before the police arrived. The incident enraged the agitators who demanded action against the driver. Injured Surinder Kumar was rushed to the hospital at Una for treatment.