PUNJABI REVIEW
Bhai Ditt Singh remembered
by T. S. Tarsi
Bhai Ditt Singh Giani: Jeevan, Rachna Te Shaksiat
by Dr Karnail Singh Somal.
Giani Dit Singh Memorial International Society, Chandigarh.
Pages 296. Rs 220.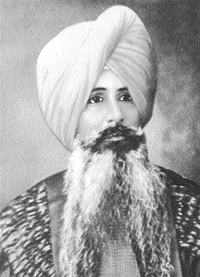 Bhai Ditt Singh
BORN in Nandpur Kalaur village, which was also where Bhai Ditt Singh Giani (1851-1901) was born, Karnail Singh Somal, a well-known Punjabi scholar, has brought out a well-researched account of the life, writings and personality of Bhai Ditt Singh.
In foreword of his book on the life of Bibi Harnam Kaur, historian Giani Karam Singh bemoans the fact that the Sikhs have forgotten Bhai Ditt Singh. Keeping this in mind, Karnail Singh has, more than a 100 years after the death of the Bhai, tries to take the reader back into the later half of 19th century to introduce him to the events and personalities that helped shape Ditt Singh, who was born into a poor family, into a great religious preacher, scholar, poet, journalist.
Having moved from one centre of learning (dera) to another, Ditt Singh became learned enough to hold discussions with eminent religious scholars like Sadhu Dayanand. Being one of the founder members of Singh Sabha Lahore, he made the Singh Sabha a great movement through his speeches and writings. As an educationist, he not only helped in the setting up of Khalsa College, Amritsar, but also wrote textbooks for the students of the college. Author of around 50 books, a major forum for his writing was the Khalsa Akhbar, where he wrote on current issues. Bhai Dit Singh was an editor of this prominent Punjabi newspaper of the time.
During the course of his research, Karnail Singh has unearthed more than three dozens of the Bhai's books and also a large number of his writings in the Khalsa Akhbar. He has tried to briefly analyse these writings while allowing a glimpse of these works in the chapter Kalam Jo Challi. Bhai Ditt Singh's personality and the people he was associated with are dealt with in two different chapters.
This book, would prove to be a great help to research scholars, and would help acquaint modern Punjabis with a person who left a lasting impact on society.