Stress isn't child's play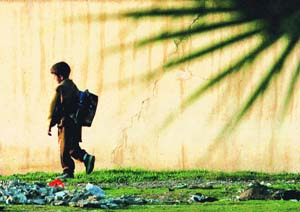 Pressure from school, from peers—even from parents—is putting increasing numbers of children under unmanageable stress. Experts say that quiet family time will do your child more good than a dozen extracurricular activities a week. Lisa Lewis reports on the rising stress level among children.
PATRICIA L. Brown, a marriage and family therapist, sees many patients with performance anxiety. But lately, it's not parents concerned about their job performance at work, or even teenagers worried about getting into college who seek out her help. She's dealing with children stressed out over homework. "This year, I've had a lot of kids referred (to me) for anxiety around school performance," Brown says. "Even in families that appear to be pretty calm, school is a tremendous stressor," she says. She recalls a bright little girl" in first grade who agonised over homework assignments and threw tantrums or tore up her paper if she made a mistake. Some kids act up or throw tantrums, while some develop physical symptoms such as headaches or insomnia. Others end up turning to drugs or self-harm. For parents, these behaviours are important signals that something is wrong. Parents need to realise that "if a kid is acting out, it isn't necessarily 'just a stage'," says Margery Lapp, a marriage and family therapist in private practice. Like Brown, Lapp sees kids who are stressed out over academics. "Affluent communities can breed too much emphasis on achieving and acquisition," Lapp says. "Early on, there's the pressure to be on a track that will lead to success." It's not just kids who are at the breaking point; parents themselves are under stress as well. "We live in an area where often, both parents are working," notes Jody Bove, a clinician and marriage and family therapist. The pressure to succeed causes stress, which in turn rubs off on the kids. "The parents come home exhausted. They walk in the door stressed out." As a result, "the kids aren't getting the nurturing they need." Often, "both parents are working and struggling to maintain their
lifestyle," Brown says.
So what's a parent to do? In a word, nothing: no scheduled activities, no structured plans. "Kids need more time to just chill," says Ellen Castleman, a licensed clinical social worker in private practice. "Make sure there's enough time when nothing is scheduled." She encourages families to take time out for family events and activities, citing examples like "good old-fashioned board games", family meals, watching a movie together or going for a bike ride on the weekend. "Rest and relaxation is stress-reducing," she adds.
Physical activity is too, although Castleman encourages parents to have kids pursue just one sport at a time due to overscheduling concerns. Brown sees kids who are attending so many activities —swimming, gymnastics, ballet, swimming—that they don't have any down time for play. These activities aren't the same as free play, she notes, or what she terms "creative, imaginative, social, old-fashioned play." "Being home and hanging out and drawing or playing with the kids next door is really healthy," Lapp adds, noting that this time is important for kids' socialisation. Kids also want to spend time with their parents, even if they may not seem like they do. "Try to spend even five minutes a day one on one," Bove says. "It can be so difficult when we're so busy, but it's amazing how special it can make a child feel."
"Kids long for more time with their parents, just hanging out," adds Lapp. "I don't know who developed the concept of quality time— sometimes that's not enough." She notes that it can be a fine juggling act, especially for parents who truly need to work, but encourages parents to build in small increments of time with their kids whenever they can. Sometimes, parents may also need to take some time for themselves. Bove notes that when parents walk in the door at the end of the day, having a few minutes to regroup can be crucial.
Then "they can move into the role as mom or dad and be ready for the kids." She also encourages parents to seek help when needed to lessen their load. Lapp advises parents not to delay in dealing with their children's stress symptoms, noting that it's better to overreact than underreact. Parents can first educate themselves by doing research, then schedule a consultation with their paediatrician. Parent support groups can also be a good resource. Focusing on the present may be the best advice of all.
"The most important thing is what's going on today," Bove says. "It's not all about colleges and grades." "Go appreciate your kids," Lapp adds. "They want your company. You're not going to get this time back." AFIs your child stressed ?
Is your child stressed ?

Any of the following may be symptoms of stress:
Acting out: Kids may react to stress by throwing tantrums or having trouble getting along with others.
Anger: This can sometimes be a sign of depression in kids, which "doesn't look the same as it does in adults" Increased aggression and slipping grades can also signal depression.
Cutting: Kids who cut themselves do so because it's a way to release their emotions. This is a major cry for help.
Drug use: Substance abuse can signal that something's amiss. Ironically, developing a "more serious problem" like drug use can be a way for kids to divert parents' attention from school achievement pressure.
Insomnia or nightmares: Older kids may have insomnia or nightmares, while younger kids may experience night frights or start wanting to sleep with mom and dad.
Physical symptoms: Kids under stress may complain of headaches, stomach-aches or simply not feeling well. Be aware of changes in your child's behaviour that concern you. If you notice something's happening, pay attention.