Shore way to a bright future
The high seas harbour a host of job opportunities for those driven by wanderlust and the desire for a life away from the humdrum. While the Merchant Navy and the Indian Navy are the conventional options, cruise liners too recruit a lot of people the year round, especially from the hospitality industry, writes Biswajeeban Sharma
WHAT if you had the opportunity to embark on a trip around the world and get paid for doing it? What if your place of work is not a dingy workstation in a block of concrete but a floating sun-drenched five-star hotel heading for Alaska or Bermuda? And as you sail you explore the secluded beaches of Seychelles and saunter through the streets of Casablanca.
A sea of opportunities
FOR those who are looking for something more durable than a career on a cruise liner, harbouring expectations of salaries as high as the shipís mast, and love the idea of travelling around the world on company expense, Merchant Navy has a lot to offer.
COURSE CHAT
Fly high over the seas
IF you keep yearning for azure skies, if you keep dreaming of Sea Harriers, choppy waters, enemy submarines and destroyers on the roll, if you keep playing war games in your mind ó stalking the skies for prey ó you might be cut out for a career as a naval pilot.

HOTJOBS
An option for the animated
Behind the web of magic in the latest Spiderman 2 flick or the delightful antics of toon characters on the tube is the touch of animation artists. With computer-aided animation being among the fastest growing fields worldwide, nearly 3 lakh animators are expected to be employed in this industry by 2008, writes Manish Kumar Singal
HAVE you ever wondered how your favourite Tom and Jerry show, or the Walt Disney characters would seem if there was no animation? Certainly, they would not be half as adorable or entertaining if animation artists had not put life into them.


CAREERCATURE
by Sandeep Joshi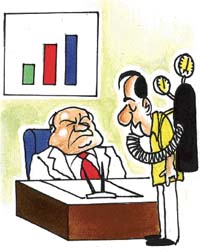 Sir, the atmosphere here is suffocating, thatís why ...


SMART SKILLS
To work from home discipline is must
by Usha Albuquerque
ANJALI KAPOOR provides nourishing meals to 25 families in her neighbourhood. Five years ago, she was a housewife, with time on her hands. But the unexpected death of her husband in a car accident forced her to become the breadwinner.

STEPS TO SUCCESS
"Hard work can take you places"
RAGHU RAI, one of Indiaís ace photographers, first handled a small Agfa camera out of sheer curiosity at his brotherís place in Delhi. The year was 1964 and Rai, then 24, had just completed a one-year stint as a drawing instructor in the Jat Regiment in Ferozepore.

IN FOCUS
Shaping software personnel
A host of private institutes are catering to the need for IT professionals in India, which is growing day by day. In 2003, the total supply of IT professionals stood at 1,46,557, according to estimates. It is estimated that the figure will touch 1,53,233 in 2004-05 and 1,60,152 in 2005-06.

EVENT BUZZ
Fair offers blend of ordinary & offbeat
Chandigarh: To those who came to window shop for courses, the two-day education fair that concluded at the CII here on Sunday offered a mix of the routine as well as the unusual. Organised by Education Worldwide India, the event attracted participants from several cities in the region as well as other parts of the country.

CAREER HOTLINE
by Pervin Malhotra