Shore way to a bright future

The high seas harbour a host of job opportunities for those driven by wanderlust and the desire for a life away from the humdrum. While the Merchant Navy and the Indian Navy are the conventional options, cruise liners too recruit a lot of people the year round, especially from the hospitality industry, writes Biswajeeban Sharma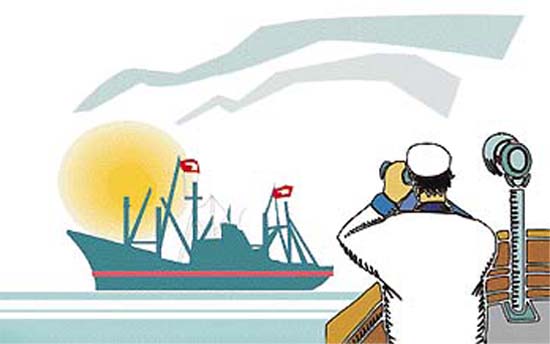 WHAT if you had the opportunity to embark on a trip around the world and get paid for doing it? What if your place of work is not a dingy workstation in a block of concrete but a floating sun-drenched five-star hotel heading for Alaska or Bermuda? And as you sail you explore the secluded beaches of Seychelles and saunter through the streets of Casablanca.
But before you set out on a voyage of endless possibilities, figure out where you fit in the scheme of things. At the top of the pack on a cruise liner are the captain and his mates — the engineers and the navigators. At the bottom of the barrel is the crew.
In between, there are the cruise directors who co-ordinate guest programmes, the hosts and the hostesses who make every moment of your stay on board enjoyable, the personal care specialists who run the spa, the gym and the beauty salons, the managers of food and beverages, and the excursion staff who organise shore tours. Not to omit the musicians, the dance instructors, the singers, the hair stylists, the casino operatives and other entertainers who keep you fully engaged on a vessel that is your home for the duration of the cruise. Cruise liners are big floating cities that hire staff all the year round. They are primarily looking for go-getters committed to customer excellence, mostly from the hospitality industry. The preference is for employees with experience under their belt and who are fluent in English and can converse in at least another language, be it German, Italian or French. The jobs available, of course, vary depending on the size of the craft and the type of cruise.
The employees are hired through recruitment agencies, most of which have listed the job descriptions on their sites. However, there is a plethora of information on the Net and the best guide is a cruise liner's official website. The site gives one an idea of the available jobs, the qualifications required, the application process, and the placement agencies used by the line to hire people. However, a note of caution: Most positions are at the entry level as cruise lines promote from within, depending on performance. Work contracts vary from six to 12 months and are usually extended. The job can be full-time, part-time or seasonal. All applications must be job-specific and cite your experience in the hospitality industry.
A seafaring job is for one who does not mind being out in middle of nowhere for an extended period, can spend hours on the deck gazing at the North Star, has an easygoing friendly manner, enjoys hobnobbing with people and is itching for long hours of work —- 8 to 14 hours a day, seven days a week. Remember, if you are cooped up on a vessel for a fortnight — even if it is a five-star liner, it can seem like a year.
Since there is premium on space, you have a hole for a cabin, which you may have to share with others. So, if you zealously guard your privacy and love snuggling alone in the bunk bed and chewing a chocolate, a job on a ship is not for you. Of course, when you are off duty, you can relax and socialise in designated areas on the vessel; however, mixing with passengers in off-duty hours is not encouraged. You can disembark and explore ports of call, but only if you have offshore leave and are not exhausted after your gruelling work schedule.
Since on a cruise liner you don't go home at the end of the day and your boarding, food and medical aid is free, the saving is substantial. Some liners even foot the bill for your airline ticket to the port of embarkation and back home, regardless of which part of the world you live in. Whatever your assigned duties on the ship, big tips are the norm, usually in dollars. Most entry-level positions have base salaries between $ 500 and $ 1500 per month. Most employees, who are entrusted with chores that involve interaction with passengers, earn more from tips than their salaries. So, all things considered, if you are still game for a career on a cruise line, welcome aboard!


No man will be a sailor who has contrivance enough to get himself into a jail; for being in a ship is being in a jail, with the chance of being drowned ... a man in a jail has more room, better food and commonly better company. — Samuel Johnson
A lot of incentives are being offered to girls, like 50 per cent rebate on fees and lowering of age limit by 2 years, to encourage them to join the Merchant Navy.
Several companies in countries like Australia and Singapore even recruit youth after Class X.
FOR those who are looking for something more durable than a career on a cruise liner, harbouring expectations of salaries as high as the ship's mast, and love the idea of travelling around the world on company expense, Merchant Navy has a lot to offer.
But before you take the plunge, ask yourself whether you have an aptitude for engineering, whether you can stay on board without setting sight on land for days, whether you can stay out of the social circuit for nine months in a year and, last but not the least, whether you can keep your balance on the vessel without going overboard.
If so, then start thinking about a career in Merchant Navy while you are still in school. Get good grades in Class XII and make sure you have physics, chemistry and mathematics. Clear the IIT joint entrance examination and you are eligible for admission in either a three-year navigation course or a four-year engineering course. Candidates have to be unmarried Indian citizens. After clearing the test, there is an interview and a medical test. Normal vision is required but glasses up to plus or minus 2.5 may be allowed.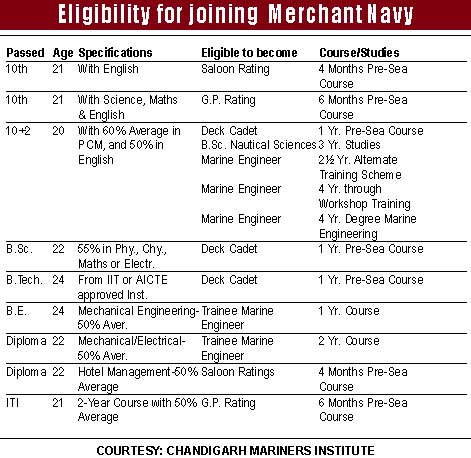 If you have missed the IIT-JEE exam, you can enroll at a private institute, which has links with a shipping company; often the latter recruit deck cadets directly through such institutes. A graduate with a degree in Marine Engineering can apply for direct recruitment with a merchant navy shipping firm in the engineering department
You board the T S Chanakya, the government training ship, for the stint in navigation while the MREI (Marine Engineering Research Institute) grooms you in marine engineering. After the three-year degree course leading to a B Sc in Nautical Sciences, the cadet officer is required to complete one year in the deck department on board a merchant ship before becoming eligible for the grant of Second Mates (FG) certificate of competency. During this period, the recruit is given a nominal stipend. After the stint at MERI, a cadet is appointed Junior Engineer Officer on a merchant navy ship.
The highest post of a navigating officer is that of a Master of a ship. In the case of a marine engineer, the highest post is that of a Chief Engineer.
The start is between Rs 15,000 and Rs 20,000 a month. The fringe benefits are free food, accommodation, paid leave and two-way free passage for families. In other words, you need not spend a penny while on board. Foreign ships pay even higher with a start of $ 1,500 to $ 2,500.
But promotions depend on your ability to clear examinations. By the time you become a chief engineer or a Master of the ship, the salary has reached as high as the mast of the ship — Rs 1.50 lakh per month. So, you are a millionaire while you are still in your 30s. But by then, most people are itching to retire and waiting for the good life to begin. Yes, there is life even after retirement with plenty of openings in ship building industry and shipping lines.