M A I N N E W S
Nine MLAs among over 1,200 arrested
Trinamool Congress-sponsored Bangla bandh
Subhrangshu Gupta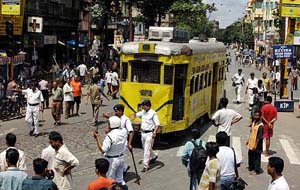 Police escort a tram in Kolkata during `Bangla Bandh' called by the Trinamool Congress to protest against the 'Salishi Bill' on Monday.
— PTI photo
Kolkata, August 2
Over 1,200 persons including nine Trinamool Congress MLAs, were arrested in connection with the 12-hour Bangla bandh today.
Except for some sporadic incidents of violence, the bandh was peaceful. However, on the eve of the bandh, Mr Biswanath Samanta (60), TMC anchal pradhan of Narayanpur, Kakdwip in the Sunderbans, was killed last night on his way back home after campaigning in the favour of the bandh. The CPM's involvement has been alleged in the incident.
The bandh was called by the TMC to protest against the introduction of the State Conciliation Bill which the opposition parties, including the Congress and the BJP, had supported.
All opposition MLAs today boycotted the Assembly but the ruling party MLAs and the ministers including Chief Minister, Buddhadeb Bhattacharjee, attended the session.
In Kolkata and the neighbouring districts, including Howrah, Hooghly and 24-Parganas, the response to the bandh was positive. But in other areas, its response was negligible.
Most shops and markets, offices and other establishments were closed in the city. All government offices at Writers Buildings and other places were open but the attendance there was poor.
The Kolkata High Court and the SDJM's courts at Alipore, Sealdah and Salt Lake could not function as their employees stayed away. The Birlas will controversy case, which was to be heard today by Mr Justice K.J. Sengupta of the High Court, could not be taken up. The next date of hearing in this case will be announced tomorrow.
A large number of government buses, trams and mini-buses were on the road today but they hardly carried any passengers. Trains and air-services operated though with fewer passengers.
Some trains had to be cancelled. The bandh supporters squatted on the railway track at several places. TMC and CPM supporters who brought out processions in several places clashed at least in seven places in Kolkata and various districts.
Ms Mamata Banerjee congratulated the people for spontaneously responding to the bandh call. She warned if the proposed bill was not withdrawn, larger agitations, including calling a 24-hour Bangla bandh, would be launched.
CPM General Secretary Anil Biswas, however, claimed that the bandh had been a flop as the people had rejected the bandh call and attended their offices as usual.