Rainfall adequate for sowing crops, says ICAR
New Delhi, August 4
The Indian Council of Agricultural Research (ICAR) today said that the monsoon has now covered the left-out north western part of the country and the rainfall was adequate for sowing suitable crops.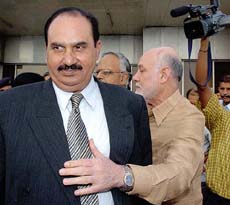 India, Pak to swap prisoners
New Delhi, August 4
India and Pakistan today agreed to address the humanitarian issues concerning civilian prisoners and fishermen in each other's custody as the two-day talks on "Promotion of friendly exchanges in various fields" concluded here this evening.



Pakistan Defence Secretary Lieut-Gen Hamid Nawaz along with Pakistan High Commissioner to India Aziz Ahmed Khan (right) at the Indira Gandhi International airport after the former's arrival on Wednesday. — PTI photo


Non-bailable warrant issued against Union Minister
Hyderabad, August 4
A non-bailable warrant has been issued against Union Minister and Telangana Rashtra Samithi (TRS) chief K. Chandrasekhar Rao by the fifth Metropolitan Magistrate in a case of cheating. The warrant was issued today following Mr Rao's failure to respond to the summons sent by the court twice on May 16 and subsequently on the request of the respondent on August 4 in connection with a cheating case.

Shekhar Dutt is Secy Defence Production


New Delhi, August 4
Mr Shekhar Dutt has assumed charge as Secretary Defence Production and Supplies in the Ministry of Defence (MoD). An IAS officer of the 1969 batch of the Madhya Pradesh cadre, Mr Dutt is a recipient of Sena Medal for gallantry.

BJP mulls expelling dissidents in UP


New Delhi, August 4
In a move which would indirectly help Mulayam government to further consolidate its position in the state Assembly, the BJP central leadership has almost made up its mind to expel rebel MLAs in the state from the party.


In video: BJP to continue its campaign against tainted ministers. (28k, 56k)


BJP demands rollback of fuel prices
BJP rebels' manch meeting today

Editorials:

End of the deadlock

Choice before BJP


UPA-Left panel skirt contentious issues


New Delhi, August 4
The first meeting of the UPA-Left Coordination Committee today skirted the contentious economic issues like increase in FDI cap, oil price hike and decided to meet atleast once month and more frequently depending on the issues that would arise from time to time to resolve them.
| | |
| --- | --- |
| | A man walks with his camels at dawn in Bikaner on Wednesday — PTI |
Soren to appear in court on Aug 9


Giridih (Jharkhand), August 4
The Additional Sessions Judge of Giridih today asked former Union Minister Sibu Soren to appear before his court on August 9, in connection with a 1974 murder case.
The Patna High Court today extended by three months the provisional bail of RJD President and Railway Minister Laloo Prasad in a disproportionate assets case, an offshoot of the multi-crore fodder scam.

Dhananjay's family dumb-founded


Kolkata, August 4
As the President's decision rejecting Dhananjay Chatterjee's mercy petition reached Writers Buildings this morning, the Chief Minister expressed great relief and directed the Home Department to implement the order.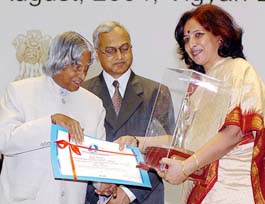 President APJ Abdul Kalam presents the '2nd Computer Literacy Excellence Award for Schools' to Vineeta Kamran, principal, City Montessori School, Lucknow, in New Delhi, on Wednesday. — PTI

Govt to bring 300 drugs under price control


New Delhi, August 4
The government has decided to bring around 300 life-saving drugs under price control to check the manufacturers and marketers from charging usurious price from customers, said Union Chemicals and Fertiliser Minister Ram Vilas Paswan here today. Addressing a press conference, Mr Paswan said as many as 300 drugs categorised as essential by the Health Ministry will be included in the list of life-saving drugs under the control of the National Pharmaceutical Pricing Authority (NPPA), which falls under the Chemicals Ministry

PMK workers attack Tamil daily office
Chennai, August 4
Workers of the Pattali Makkal Katchi (PMK), a constituent of the UPA Government at the Centre, attacked the office of a Tamil newspaper last night for the daily's criticism of the PMK leadership and its policies.


19 hurt in Manipur police firing


Imphal, August 4
More than 18 persons, including students, were injured in police firing as thousands of protestors took to the streets in Manipur today in protest against the "custodial'' death of Manorama Devi and repeal of the controversial Armed Forces Special Powers Act (AFSPA), 1958.
Rajneesh Behl, husband of late actress Nutan, died in a fire at his penthouse flat in downtown Mumbai, the police said.



Videos
Twenty-six tribal militants surrender in Meghalaya.
(28k, 56k)
Ancient Indian city being restored to its former grandeur.
(28k, 56k)
Filmmaker Sanjay Leela Bhansali is back with his much talked about film Black.
(28k, 56k)