M A I N N E W S
11 labourers buried alive
Tribune News Service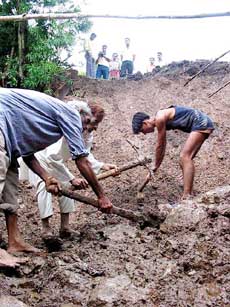 Rescue workers search for trapped bodies of labourers in a landslide that occurred near Banganga, Katra, on the Vaishno Devi route on Friday. — PTI photo

Jammu August 6
Eleven labourers were killed and three injured in a landslide on the route to the Vaishno Devi shrine in Udhampur district of Jammu early this morning.
The landslide occurred at about 2.30 a.m. when it was raining heavily in the area. The labourers got buried as the hut in which they were sleeping collapsed due to the landslide.
No pilgrim was hurt in the mishap as the hut was located a short distance from the uphill track to the shrine.
The pilgrimage went on uninterrupted, Mr Rohit Kansal, Additional Chief Executive Officer of the Mata Vaishno Devi Shrine Board, said.
The landslide occurred at Dabbamore, 2 km from Katra, on the route to the shrine. These labourers were engaged in the construction of a road and had constructed eight huts there, of which one came under the landslide.
The victims belonged to Valiot village of Ramban and their bodies have been sent to their homes after post-mortem.
Among the killed were three brothers, Arjun (35), Bansi Lal (34) and Yudhishter (33) .
Baldev Singh (50) and his son Bittoo (22) also lost their lives.
Other who were killed are Choor Singh (32), Inderjeet (28), Dhiraj Singh (24), Jatin Singh (23), Angrez Singh (22) and Anchal Singh (45).
The district authorities have provided ex-gratia to the next of kin of those killed.
The injured were given first aid at a hospital in Katra and two of them were discharged.
Meanwhile, more than 5,000 Amarnath and Vaishno Devi pilgrims were stranded at the railway station as they were unable to return to their homes because of cancellation of many trains due to the flooding of the track in Punjab and Haryana.
The 20th batch of pilgrims left for the Amarnath shrine despite inclement weather today.