Ale and hearty





Close on the heels of Delhi, Chandigarh too is joining the league of big cities, where pubs have come to stay. Drinking and socialising patterns are getting redefined as more and more upwardly mobile men and women are saying boo to taboos and having their fill at watering holes. Gitanjali Sharma crawls the pubs of Chandigarh to find that pubbing is on an upswing and Komal Vijay Singh checks out how Delhiites keep their spirits high.
It is Saturday, 11 pm. Three trendily clad girls accompanied by two natty-looking guys walk into a dimly lit pub, rocking with deafening music and swarming with twenty-somethings. The fivesome confidently look around for an unoccupied table with little luck before moving towards the crowded bar counter. Sipping choicest drinks and getting a high from the pulsating setting, they hang around for a while before zipping off to another such fun hangout.
That was a whiff of the getting-more-visible-and-pronounced pub culture in Chandigarh. No, the city is not heading the Bangalore way, even remotely. Local pubs, if they may be called so, at best can be dubbed cocktails of pubs, bars and eateries. The idea is to please all the people at select points of time, no matter that the final fare appears like a hotchpotch of mishmash. So, if these drinking dens-cum-dining areas are jampacked with fun-loving boozers on weekends, they may serve as chic luncheon retreats for young executives and classy restaurants for families on weekdays. A popular so-called pub even arranges kitty parties for moneyed ladies, and another offers attractive birthday packages for kids.
The client profile at these fusion joints, complete with plush exteriors, in-house DJs, dance floors and large screens, could be a little blurred for a strict demarcation but a pointer that emerges is that more and more young are gravitating towards these pubs-cum-bars. Close on the heels of the culture of eating out with the family, the practice of indulging in cool 'n' casual boozing is catching up with 20 to 40-year-olds.
Pubbing, which is not only gaining social tolerance but is certainly on the upswing, is increasingly being considered as the "done if not the only weekend thing" in a city which has never had any nightlife to swear by. Young Chandigarhians who have always enviously looked towards the metros when it came to living it up, have now taken to chilling out with a vengeance, if pub spillovers on weekends are any measure. Popular pubs like Down Under, Blue Ice, Copper Club, Cellar and Hideout and are not just packed to the last inch but also have hordes of pub hoppers impatiently waiting outside.
Pubbing is catching up fast in a city

that never had any nightlife to swear by. More and more young couples with disposable incomes are now entertaining and unwinding in pubs.
Lately, new upmarket hangouts like Blue Ice, Copper Club and Ruby Tuesday, barely six to 18 months' old, have shaken the conservative roots of Chandigarhians by redefining drinking and socialising patterns of the young. These elitist bars are being projected and perceived as "safe" haunts for girls. The "couples only" rule on Saturdays too ensures little scope for any untoward or awkward happenings. In the days of drinking stealthily round corners and in cars, it was unthinkable for a male to escort a ' girl into a pub, dubbed as seedy, smoke-filled, dim-lit joints reeking of alcohol and packed with rowdy men. Now, you have not just couples sauntering in but also all-women groups, especially from the corporate sector, savouring mocktails like Frozen Margarita, Blue Breeze and Peach Sunrise or experimenting with harder and headier stuff on lazy weekend afternoons. Girls may not be matching the guys puff-to-puff and pint-to-pint, but their smoking and drinking no longer invites glances or the tippler-next-table to order another Sex on the Beach or Bloody Mary.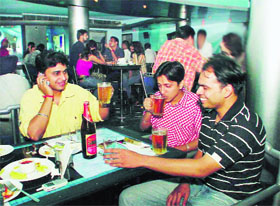 With a changing social scenario which speaks of a growing chunk of singles, young couples with disposable and double incomes, and nuclear and split families in the city, the idea of entertaining out and loosening up with a crowd you can call your own is fast finding favour with the young upwardly mobile brigade. In summers, even reasonably popular pubs knock out at least 400 glasses of beer each evening. Even though beer consumption has been on the rise in the city, hard liquor continues to remain the first choice of boozers. Last year, 56,770 bottles (15,000 more than the previous year) of Indian beer and 1,49,500 IMFL bottles were consumed, according to the Excise and Taxation Department.
Marked by its city-for-the-retired image and almost non-existent night life, Chandigarh has definitely come a long way since the administration began to hand out pub licences to restaurants in 1991 in order to promote beer culture. Prior to this only hotels were considered suitable for bar licences. There was one exception, the classy Piccadily restaurant, which had a bar licence even in the 1960s. Initially eight pubs came up, meeting pre-requisites like a decent décor, ambience and location. Now, the number of pubs stands at 11, pub-cum-bars at 20 and just bars (which don't sell draught beer) at 38. Interestingly, in the past couple of years a number of pubs have gone in for a bar licence as well. "You can put this down to Indian men's preference for whisky rather than beer or for the fact that beer has few takers during the winter months. Most men feel beer is for the weak. And even if they do go for it, they opt for strong beer," says I.S Sandhu, Additional Excise and Taxation Commissioner. Besides the fact that India is a hard liquor country, he feels that pubs alone haven't really picked up because nobody has pumped in mega bucks in them. Sanjeev Verma, co-owner of Khyber's Wild West pub, which came up in 1993, aptly describes how the drinking culture has matured over the years. "Ten years ago, we had at least one brawl a day. Now, there's just one in two years, and that too can be put in the avoidable category. Then drinking was considered an adventure, now it is a social activity that is gaining acceptability. The 'macho feel' and the 'rush of blood' associated with consumption of alcohol earlier is missing now."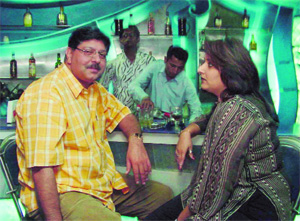 Photos by Parvesh Chauhan
A fallout of westernisation and modernity, pubbing may steadily be becoming the accepted norm with the upper crust and even a lifestyle option for the pushy middle class but it continues to be a hush-hush issue for many. Interestingly, even as men are more cool, accepting and forthcoming about the entry of women in pubs, women, particularly students, are still wary talking about this new trend. They're uncomfortable about admitting their fondness for liquor.
Keeping up with the spirit of the times — of investing in people and relationships— pubbing now is no more confined to just guzzling down one beer after another in solitary company. By and by as the shock value attached to drinking is lessening, it is emerging as a great socialiser. Pubbing at present is more about dating, socialising, chatting up friends and building up associations and contacts. And, all this demands an alluring ambience. Music to the mood, a civilised crowd, and a vibrant place is what the young are now saying cheers to.
"A decent place to hangout, a crowd that is not too wild and good music is what my friends and I go for," says 20-year-old Nikhil, who uses his pocket money and whatever he makes from part-time jobs to go pub-hopping. Not too floored by the still-picking-up pub culture in Chandigarh, this BBA student rues that it is sad but true that beggars can't be choosers.
For 27-year-old Rajiv Goyal, an advocate, the pub scene really hots up when games are on. "It is a treat to watch cricket and soccer games on large screens," he quips.
Pubbing is also taken up by some as an agreeable way to kill time. A senior executive with an MNC and living away from her family, Radhika (27), exemplifying today's financially independent and professional urban Indian woman, likes to idle away the hours with her colleagues-turned-buddies at some pub after watching the matinee show on Sunday.
The young, however, are perennially hunting for new haunts and novel ways to experience a zing. Twenty-year-old Shikha, working with Airtel, gives one out of ten to nightlife in the city. "It is nothing to rave about. You bump into the same people over and over again. Unlike other metros, where partying picks up from Thursdays, nightlife comes alive in Chandigarh only on Saturdays."
With the young easily getting disenchanted with the goodies at hand, these hybrid places, which do roaring business mostly on weekends, resort to "fill-up" measures and attractive deals to lure customers on non-rush days. Besides hosting parties, including kitties and birthday bashes with attractions like screening kid movies on chic screens, many pubs are offering a host of incentives such as happy hours and discounts to pull customers.
Ruby Tuesday, whose sales did not pick up till it acquired a pub licence, offers 20 per cent off to corporates like Quark Media, Infosys and Excel Call Centre. Rahul Kakkar, manager, Blue Ice, says, "You have to constantly keep doing some natak to keep the business running. Sometime ago we hosted a Hawaiian night complete with Mexican food, carnations, juggling bartenders and stewards attired in floral costumes." Aman Bir, whose family runs a string of eateries and pubs in the city, admits that besides ambience, good food and service, the young are drawn to big names.
Competition is undoubtedly stiff but is confined to the same-rung bars. By and large, all bars have a select target audience to tap. For instance, upper-end bars face little threat from down-scale bars, which at times even have banners announcing "whisky at club rates." And the presumably safe retreats for women are in no race with basically guy-scenes.
The city's watering holes, without a wager, are here to stay and probably even thrive but it may be millions of beers away before pubs become second homes to Indians.
— G.S.

Resto-bars, toast of the town
All work and no play makes Delhiites dull and the city a most dreary place. This used to be oh-so true of the Capital a few summers back. But now Delhi is showing the way to all who care to visit it as to how one can enliven one's evenings. A pub crawler's paradise, Delhi offers a cure for what ale's you. With pub culture catching on in a big way with the city slickers, the once demonised pubs are the latest entertainment venues for all classes of people. Time was when a pub, a hub of social life all over the world, the modern world at least, was for many Indians a rarity whose ambience could be enjoyed only in bindaas Bangalore and magnetic Mumbai. In puritanical Delhi, the move to open beer bars, with the accompanying images of boozards and brawls, was seen as an assault on Indian culture. Delhi was rightly considered a dry city. Not long time back, if you had big bucks you could go to a five-star hotel to enjoy a drink. The less prosperous had to queue up at the government liquor shops to procure a bottle and then head homewards. Those wanting more had to head for the border to pick up booze late at night. Not so now. A swinging and rocking pub culture has celebrities from all over frequenting the many classy 'resto-bars' that dot delightful Delhi. The increasing number of pubs have broken the slumber of Delhi like never before. For long considered the poor country cousin of Mumbai and derided for its dhaba culture, Delhi is right on top of the country's most happening locales. A new breed of attitude-driven professionals and preppy college-goers are responsible for this change.
The growing legion of resto-bars, which offer the choicest of cocktails, cuisine and music, is proof of their popularity. The PVR Saket complex, (Suede, Buzz), Shoppers' paradise Ansal Plaza (with The Buck Stops Here, Geoffrey's and Pizza Pizza Express as its drinkspots), the charming Connaught Place, the posh Greater Kailash and Vasant Vihar markets, the 'Pub alley' in New Friends Colony (with Pebble Street, Mezz and Ego being the front-runners) are the well-known go-pubbing zones. The pubs here tap the 20 to 45-year-olds.Pubs here are a big hit with office-goers and 20-somethings. Couples also frequent the place. Seeing some walk in with a kid or two in tow is quite routine.
With picturesque names like 18 Till I Die!, Blues, Patiala Peg, Chak De, The Hunter's Bar, Ego, Drums of Heaven, Orient Tavern, Thugs, pubs promise an ambience where one can sit and drink in peace. While some are clearly meant for the swish set there are other equally good ones where you can safely go with a light pocket. Reasonably priced food and drinks ensure you can sack out there for hours.
Besides a choice of cocktails, mocktails and regular hard drinks, most pubs have assorted dishes from international cuisine to give the guests varied fare. Most pubs have happy hours when drinks are sold at discounted prices accompanied by liberal quantities of free peanuts. Extended happy hours are religiously utilised by youngsters and office-goers who head for the pub after work to unwind. The music is mostly loud and contemporary. Giant TV screens are on a regular diet of Fashion TV, V or MTV. If a cricket series is on a pub is the place to cheer for India over pitchers of draught beer. But there are quiet places which boast of a pianist and a gentle ambience that leave one with an afterglow. Some have an in-house DJ.
The general idea of a pub being a dark drinking hole with loud music blaring away is done away with loads of attitude. The bars are no longer just a booze place. They are sought after joints for a family meal too. Foodies can have their fill with the platters on offer.
Most bars are awash in special deals. Nifty promotions and neat deals are the name of the game. The base offer usually entails one free drink with one drink bought. Most bars have happy hours. Afternoon jam sessions are aimed at the college crowd whose parents impose night curfew. It is a great way of maximising revenue.
Ghungroo, a pioneer of nightlife and a popular haunt for regular disc-goers, holds theme nights for sales promotion and offers attractions like a celebrity DJ other than their permanent ones. Mezz in New Friends Colony bursts at the seams on most evenings. It is a favourite chillout place for Gen X. This is the only place where Rock music rocks.
With business going great guns at these hangouts, eateries in middle class neighbourhoods are also transforming themselves into resto-bars. With hip and funky places sprouting up regularly it is almost as if votaries of Bacchus are saying, Yeh Dilli Maange More. — K.V.S.