Sight & Sound
What is real news
Amita Malik
As an inveterate news watcher on TV, I often wonder to whom the news is directed. I wonder even more when I see their ratings. Granted that NDTV 24 x 7 in English is for the educated, reasonably sophisticated viewer, both young and old, but I have found the channel a bore after the budget. Whenever I switch it on casually, I find it discussing the market news, morning, noon, and night, with scoreboards like those for cricket telling viewers about the stock market. Now 7 p.m. is a convenient time for people just returned from office or housewives getting their breath back before thinking of dinner or going out. But again in the evening news it is more of stocks and shares. Anyone watching out anxiously for news about the lorry drivers held hostage in Iraq had to do a spot of surfing to find out about them. Of course, NDTV English got the riveting exclusive of M.S. Kohli's confession to rape and murder and we must applaud the initiative of Swati Maheswari in getting it. Pity it was later whittled down to a publicity gimmick by the Punjab Police. NDTV is very good when it comes to off-beat reporting. But I must confess I switch to its Hindi channel when the market news gets me down.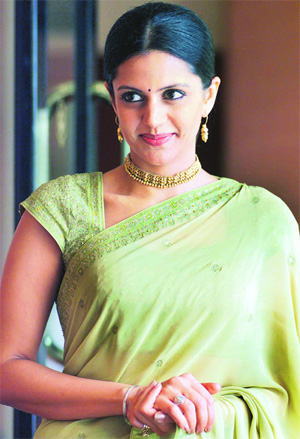 Mandira Bedi taken off the pitch
I have also tried to understand why Zee News and Star News come lower in rating.
Zee is very good at brief and longer investigative stories and its news presenters and analysts are adequate. Star News has many offbeat stories and both channels have been going to town with sports news and roping in experts for sports. Alas, the experts on political analyses and interviews on all channels tend to be the same. But Star News has fun items as well. Where it loses is in its presentation of news. Its newscasters, especially the women, read too fast, sometimes mumble and are more often than not are boringly casual.
Then there is Sabse Tez Aaj Tak, obviously aimed at the younger viewers in a hurry, with newscasters to match. But it does fit in a load of assorted news. I often switch over to Zee News and Stars News when NDTV gives more stock news and loses its sense of fun.
Viewers are also getting a bit tired of Barkha Dutt and Rajdeep Sardesai's weekly programmes that have audience participation. They always feature the same old experts (Mahesh Bhatt, Javed Akhtar) and these programmes come to no definite conclusions ever but end in a draw about any controversial subject.
Do we, then, not watch DD News at all? Of course we do, for exclusives such as direct relay of Parliament, more so now that Speaker Somnath Chatterjee has decided that the unseemly behaviour by the Opposition and others should not be blacked out by DD. Voters are certainly getting a ringside view of how their elected representatives behave and how they waste the tax-payer's money for frivolous reasons. A good example of parliamentary democracy as well as people's power. Then I always tune in to DD to get (because it has a monopoly) such exclusives as PM Manmohan Singh's statements and encounters with the public, Indian and otherwise. Its camera crews usually are professional, but its reporters, usually pen-wielding information officers from the Press Information Bureau who are given preference over DD's TV-trained staff reporters, speak in a variety of thick regional accents which at times makes it difficult to make out whether they are speaking in English or in some other language.
I hope I & B Minister Jaipal Reddy will decide once and for all that print journalists from the PIB who wish to become TV reporters should resign from that organisation and take training in television and get equal status with the professional staff reporters of DD and not get this sort of preferential treatment over them. At the moment, they are eating their cake and having it, which is neither fair nor professionally correct.
The cricket in Sri Lanka, competently reported by Star News and ESPN, the tragic hostage crisis in Iraq, the BJP baithak in luxurious Goa, the perennial monsoon gamble, and the run-up to the American presidential elections continued to dominate the news. The channel one chooses depends on what news one wants, although bad news continues to drive out good news.
I liked the way one or two channels reported about the Indian Airlines pilot making an unscheduled halt at Hyderabad to save the life of a Pakistani infant. It was also fun to see the Honda Sports Awards on Sony Max (glad they dispensed with Mandira Bedi for once) and watch an excellent imitator do comic turns about Sachin Tendulkar, Sourav Ganguly, Geoffrey Boycott and the rest. Luckily, it came on the eve of India's defeat in the Asia Cup in Colombo.