ART AND SOUL
A poet's way of seeing
B.N. Goswamy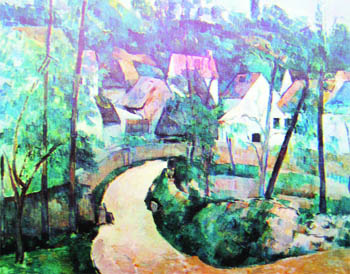 The Turning Road by Paul Cezanne ; 1879-82
When poets see paintings or write on them, they see different things, or at least see things differently. Take the case of the much-loved Denise Levertov (who died just seven short years ago), "the most subtly skillful poet of her generation, the most profound, the most modest, the most moving".
Born in England to a Russian Jewish immigrant and a Welsh mother, she knew from her early childhood, as she used to say, that she was going to write poetry. But since she also thought that she was going to be a painter, and spent several years learning ballet, one knows that she had other interests that were never going to leave her.
For the visual arts she felt a deep affinity, for looking at art, she wrote somewhere, is "a true and lasting love". Her first book of poems, published when she was barely 20 years of age, was dedicated to the art critic and poet, Herbert Read; for the landscapes of the great French painter, Cezanne, she harboured a lifelong passion. Every now and then she would turn to 'the materiality of the visual arts' to express spiritual energy and force. As she put it in an early poem, addressing artists in both media:
Incise, invent, file to poignance;
make your elusive dream
seal itself
in the resistant mass of crude substance.
Even when she spoke of her own craft as a poet, poetry being "at the very centre of her life", Denise would move with silent ease into other worlds. To a group of poetry students at Stanford, thus, she would say something like: "without the impulse to make a thing out of words, as a sculptor makes a freestanding thing out of clay or wood or stone, a poem will remain only self-expression". Or: "It's a little as if the poet were a sort of photograph developing medium, which makes the mysterious hidden image appear from the negative and become clearer and clearer".
Denise Levertov wrote with passion and eloquence, and she wrote on everything: love, motherhood, nature, war, nuclear arms race, mysticism, the craft of poetry, the role of the poet. But to writing seriously on the works of art, she turned relatively late. It is in her 1989 book, A Door in the Hive, that she seemed to have finally surrendered to the 'ekphrastic impulse' (a term I did not know, and had some difficulty in tracking down the meaning of): the desire to write poems about specific paintings.
An article I was reading on these the other day drew attention to her poems on five different visual artists, among them the German Anselm Kiefer, and that Lithuanian-born painter of great distinction, Chaim Soutine. It also spoke of Denise's growing concern about the limits of poetic language, the "relative poverty of words". But turning to writing about the visual arts for her was all somehow a re-surfacing of old interests: those early years in London, under the threatening reality of the world war, when she would seek respite, like so many others, within the "lofty and vast halls" of the Victoria and Albert Museum, museums being places "where all poets worship in a secular age". She recalls the experience vividly, for, as she writes:
Here was history
as I desired it: magical, specific,
jumbled, unstinting,
a world for the mind to sift
in its hourglass - now, while I was twelve,
or forever.
It is in her poems on specific paintings, however, that one sees her responding viscerally to works, and establishing startling connections. Soutine, an artist who had fled from ill-treatment and racial hatred, had for her the ability to depict the pathos of everyday life, its suffering and its anguish. In as seemingly simple a work of his as Still Life with Herrings where two forks rest on a plate with fish as if they were famished, bony hands, she could see images of hunger, loss, desperation, and unbridled desire. And write about them, in her own fashion, and in her own power-charged words.
It is not possible here to go into long poems, but when you hear her speak about these works, you experience a peculiar sense of deepening and heightening. And sometimes, one is led to making connections of one's own between her words and known images. As between Cezanne's wonderful landscape
that appears here and her evidently unrelated, but not irrelevant, words from an early poem September 1961:
But for us the road
unfurls itself, we count the
words in our pockets, we wonder
how it will be without them, we don't stop walking, we know
there is far to go, sometimes
we think the night wind carries
a smell of the sea.
It is not widely acknowledged but Denise Levertov engaged as much with social issues and humanitarian concerns as with the Eastern mysticism. Among her works is a translation of an Indian text under the title: In Praise of Krishna: Songs from the Bengali.