Lessons from the forgotten childhood
by Prakash Singh
Sandbox Wisdom
by Torn Asacker. Pearson Education. Pages 121. Price not stated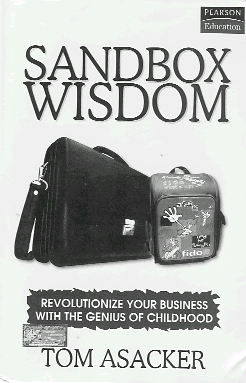 Once in a while a book comes along that is simple in language, enjoyable to read and profound in its meaning. Sandbox Wisdom is one such book. Tom Asacker narrates a story about Bill West, who is on a quest to finding solutions for rescuing his sinking company. You follow Bill, as he spends a day playing with a retired billionaire, Falcon, and his adorable granddaughter, Annie.
Throughout the story, Bill learns invaluable business lessons through playground experiences. Asacker immerses himself into the character of Falcon and makes you introspect by turning simple childhood activities into learning activities. His style of uncomplicated writing is consistent with the story that teaches us to be childlike in our business dealings. It shows us how to communicate effectively with customers and employees by being genuine, vulnerable and empathetic.
Another interesting feature that Sandbox Wisdom offers is "Billís Notepad", which highlights the lessons that Bill has learnt at the end of each chapter. Though the book does not take long to read, each chapter carries a message that needs to be absorbed slowly by putting it into practice.
These simple messages go straight to the heart of marketing, brand building, selling and management by stressing on virtues such as honesty and loyalty. "It doesnít really matter what people think about us or our company. What matters is how we make them feel about themselves and their decisions in our presence." Quotes such as these make this book a must-read for all who wish to become successful in business and in life. The book is well written and enchanting without being overly pedantic.
Tom Asacker, a noted speaker and columnist, offers illuminating thoughts from Dr Seuss to Mahatma Gandhi and practical advice from his many years of creating emotional connection between businesses and customers. He cleverly shows how "emotional contact"holds the greatest promise for building long-term relationships with customers by blending the most modern communication techniques with metaphors and storytelling.
The only drawback of this book is its Americanised style as some of its lessons may not be applicable in the context of Indian companies, where being "vulnerable" may tantamount to being overthrown by competition. Also "playfulness" and "patience" in an
Indian workplace contradict the private-sector culture.
Making a paradigm shift at all levels of an organisation, as illustrated in the story, requires flexibility to change and openness to new perspectives. This utopian picture may be difficult to digest. Nevertheless, Sandbox Wisdom is a precious treasure store of unconventional insights unearthed from oneís forgotten childhood. Make a delightful journey back in time, in this ahead-of-its-time book.