hindi review
Bitter truth artfully told
by Ashok Malik
Main Sach Nahin Bolunga
by B S Bir. Bhartishri Prakashan, Delhi. Pages 112. Rs 120.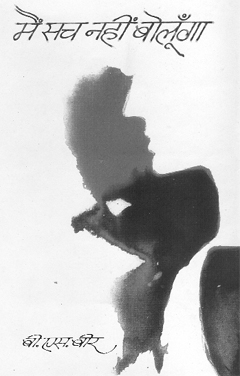 B.S. Bir brings itinerants touch to his first collection of Hindi poems. Most of his writing has been so far are in Punjabi, but he also has two Hindi books to his name - Dhuan, a novel, and Ye Janam Tumhare Lekhe, a collection of short stories. He spent many years in places like Charkhi Dadri, Jhojhu Kalan, Birhi Kalan, Sanwar and Sangrod in Haryana and Rajasthan. Later, he visited most parts of the country and also travelled abroad. In spite of all this, his poems exude the rich fragrance of the soil of Punjab.
The collection draws its name from a cynical poem that laments the loss of culture and gives expression to the authorís pain, which stems from the fact that untruth often triumphs over the truth. This recurrent theme finds its most forceful expression in Aham (self or ego), the first poem of the collection. The super ego of an individual makes him wish for omnipotence, omniscience and possession of all richness in the universe. The authorís annoyance with the inanities of society can be seen in Siyasatdaan, Publicity Marketing, Vigyapan Agenciyan and Aao Jungle Ki Aur Chalen.
Chup Aur Bol is about the eloquence of silence exemplified by Punjabi folktales of Loona and Pooran, or characters drawn from the Mahabharata and the Ramayana.
Birís language is simple and direct (the silence of the sculptor gives voice to stones in Chup Aur Bol) and his idiom unrestricted by tradition (children are software of life and for them, dad and mom are outdated hardware in Kirmachi Rangmanch ). In Airhostess, the poet describes sky dames as fairies and doe-eyed charmers, who have no compunction in ignoring you once off the plane.
In Kaamsutra, the poet is seen drawing a line between the pious reproductive urge and lust. Most of his poems sound like dialogues with the self, e.g., in Man Aur Sharir (mind and body), he says Tera dacter tere ander, mera rogi mere ander (your doctor is within you, my patient is within me). In Mana Main Hero Nahin, he asserts that even those who are not "hero" are not "zero".
Birís poems have many colours of the rainbow of feelings, but he seems to enjoy dealing with the spiritual experience and the moral decadence of society. The teacher-turned-journalist gives his reader an opportunity to look into his experiences with unusual honesty.
Some typical Punjabi expressions creep in almost unnoticed in most of Birís poems. His Hindi is spiced with the delicious Punjabi tadka. Readers outside Punjab will see it as a novelty and accept it for its newness even if they do not understand it. He seems to realise his linguistic limits and justifies these thus: "When I write in Punjabi, Hindi barges in; when I write in Hindi, Punjabi does not leave my pen." Some of Birís words like kud (lie), surjeet (alert), kans (cornice), bot (hatchling), melte (wiping up) and dharu (pole star) may test the comprehension of most readers of Hindi poetry.