Food Talk
Kahani kofta ki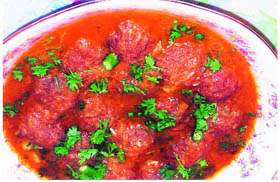 Nothing tests the skills of the connoisseur as much as well-made koftas do. Pushpesh Pant unravels the secrets of getting the taste of melt-in-the-mouth koftas just right
Amongst the most cherished memories from childhood of the writer of these lines are those that rekindle the taste of melt-in-mouth koftas that Latif Babu's daughter-in-law cooked and sent to us for Eid. We lived in a remote hill town and she was newly married into a handful of Muslim families resident there. Such is the magic of bachpan that no kofta tastes since has matched that
perfection.
Mouth-watering kofta
Mince very fine 1/2 kg
Chilli powder 3/4 tsp
Dhaniya powder 1 tsp
Zeera powder 3/4 tsp
Haldi 1/8 tsp
Garam masala 1 tsp
Oil 15 ml
Salt to taste
For gravy
Onions 250 gm thinly sliced and browned dark
Garlic and ginger paste 1 tsp each
Chilli powder 1/2 tsp
Dhaniya powder 1 tsp
Garam masala 1 tsp
Bay leaf one
Cardamom, clove and cinnamon powder 1/4 tsp each
Salt to taste
Yogurt 200 gm
Oil 45 ml
Mix all ingredients for kofta and shape into balls. Brown onions well add garlic ginger paste and other spices stir fry a little and put three cups of water bring to boil. Reduce heat and poach kofta in batches. Raise heat to medium when the meat balls harden and change colour. Remove form heat cool and add beaten yogurt. Reheat and cook on low heat till gravy thickens. Garnish with green chillies and fresh dhaniya if preferred. Enjoy with roti or rice.
Kofta like the kebab presents itself in different garbs. Thee is the plain-Jane version and there is the exotic gushtaba, the jewel in the crown of the Kashmiri wazwan–crafted lovingly and painstakingly by beating boneless cubes of mutton with a wooden mallet for hours and incorporating generous quantities of fat. Rista is close cousin and for everyday fare there is the sausage-shaped Kashmiri kofta spiced delicately with saunf and saunth with a hint of hing and with a satin texture.
And who can get over the stunning beauty of the Nargisi kofta that mimics a narcissus flower- yellow iris surrounded by circle white petals. Yes, you guessed it right the effect is created by stuffing half a hard-boiled egg in a giant sized meat ball.
The mughaliya kofta is very different from any of these. It may be the exotic variant stuffed with dried plums, other dry fruits and delectable nuts or he simple yet sublime meat balls laced seductively with mint. Some epicureans like their overtures to meet with resistance and do not care much for the softies. Mini kofta or kofti are used at times to enrich the pulav or eaten as khatti or tamatar ki goli. Sakhavat, the legendary cook in Lucknow, commanded a loyal following as long as he lived. Patrons literally queued up before his shop for these delicious marbles. Each to his own, is all we can say. What is clear is that the Indian kofta is far superior to the crude meatballs that adorn the spaghetti.
The vegetarians have exerted hard over years to match the richness of the non-veg reprtoire. Alu, lauki, zimikand, kamal kakadi, paneer, kaccha kela (and many more) all have been pressed into the service of the shakahari. A favourite game is to test the guest's claim to gourmet status by asking him to identify the ingredient! Cheating like camouflaging it by bits of soaked bread are considered fair like in war and love.
The trick is to use the best quality mince boiled and ground or passed one more time through the machine or texture the preferred vegetable to its closest imitation. Then comes the difficult part to ensure that the small orbs do not disintegrate while cooking. Gentle does it. The kofta are best when poached in an aromatic broth over very low heat. Resist the temptation to coat these in egg or besan batter. If patience is not your strong point you may use roasted gram powder in miniscule quantity. Vegetarian koftas are much less bothersome as the starch content acts as a binding agent.
An equally challenging task is to match the gravy with the kofta. Strive for a contrast of colours and nuanced enhancement of flavours.
Tomato gravy is quite common, the yogurt base alternative is much more interesting you can play around with browned onions, garlic, ginger and kasuri methi. Pureed palak presents more possibilities.