Inhuman cargo
The hostage crisis has exposed a thriving racket in human smuggling. Indians from this region are the prime victims as well as profiteers in the global network of this predatory business that respects neither lives nor borders. Prabhjot Singh reports.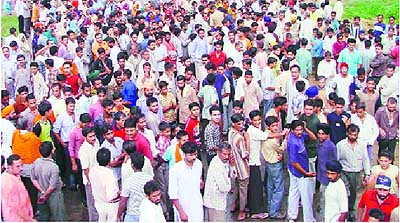 Feelings ran high and anger spilled over: People thronged the streets and attempted to hold foreigners hostage in Una, HP.
— Photo by Manoj Mahajan


(L) These young men were lucky that they could return to India (R) Aliens scanning newspapers in the Teheran gurdwara library.
— Photos by Pervinder Singh Chandok

(L) A victim shows bullet injuries on his arm (C) Relatives comforting the distraught mother of a hostage. — Photo by Manoj Mahajan (R) An illegal immigrant's swollen feet tell the tale of physical hardship
The plight of "aliens" languishing in jails in Greece, Turkey, Iran and Pakistan was brought to light after seven workers of Kuwait Gulf Links, a transport company, were taken hostage in Iraq. Those taken hostages had gone "legally" but the focus shifted to the "aliens" who were considered "vulnerable" to exploitation by companies engaged in Illegal international trafficking.
Only last week, the first batch of 23 of the 106 Indian youth, who had been languishing in the Teheran Gurdwara from four weeks to three months, could return home safely after attempts to sneak into Greece in the Olympic year proved abortive. They were not only left destitute but had become mental wrecks. Despite the infamous Malta boat tragedy of December 25,1996, there has been no let-up in the activities of mafia engaged in human smuggling. It is not only the Doaba region of Punjab that is targeted by the agents but also other parts of the North, including Haryana.
In the Malta boat tragedy, 170 youth from Doaba, 88 Pakistanis and 149 Sri Lankans had drowned in the Malta-Sicily channel after "donkey," the boat they were travelling in, collided with a ship during a mid-sea transfer. The police may have registered more cases this year than last year against travel agents for cheating, but it has not checked the "outflow of both skilled and unskilled youth to western nations" by illicit methods. Rather, the number of victims is rising at an alarming rate.
Smuggling humans is a multi-billion dollar business. It has been thriving because of the lack of economic opportunities at home. "What do we do here? There are no jobs and agriculture is not remunerative. We are forced to take this risk," says Karnail Chand, a 29-year-old from Kapurthala, who has been one of the 23 who returned from Teheran last week.
"It is a complex network which operates not only at the village level in Punjab but also internationally. The beneficiaries are too many. Right from the agents who scout for youth lured by the greener pastures of the West to immigration and police officials manning international borders across the globe, all are part of the network," says a senior Punjab police official, maintaining that each victim has the "same horrid tale of misery, hardship and suffering to tell."
A powerful nexus between collaborators or suppliers of illegal immigrants from the region and those abroad have spread their tentacles all round the globe and turned the racket of into a thriving business. Increasingly clever and clandestine methods employed by the criminals, incredibly high profits involved and the non-interference of other countries, which often welcome the aliens as "refugees," are supporting factors that contribute to this flourishing trade.
Investigations reveal that every year those indulging in human trafficking ensnare no less than 25,000 able-bodied youth from the region. Each one of them coughs up anything between Rs 2.5 lakh and Rs. 20 lakh on being promised an "entry" into Europe or North America.
"Last year, almost 90 per cent of the people from Jordan, Lebanon and Iraq managed to sneak into Greece and Italy. But this year, the success rate has been only 9 to 10 per cent. In Greece, the authorities are very strict because of the Olympics. They deport as many as 1,000 "illegal immigrants" everyday," says Balbir Chand, also a victim.
Harpal Singh, a youth from Doaba, says he had struck a Rs1.75-lakh deal with a travel agent of Nakodar for taking him to Greece. "It all started well. The agent got us a visa for Jordan and put us up in a hotel for seven days. Food was not provided but the agent used to give us a few chappatis and some vegetable curry for lunch and dinner each day.
"Then started the second and most humiliating phase. Those who were not very ambitious settled down in Jordan or Lebanon where they have to churn out something between Rs 45,000 and 50,000 for a card to work there against a salary of US $ 250 to 300 a month. To get into Istanbul in Turkey, agents in Jordan charge you anything between US $ 450 and 500. Tourist buses take 15 to 16 hours to reach Istanbul."
"Sometimes, these buses are checked and "aliens" are pushed and dropped on the Iran border. There are several check posts and barriers. The aliens manage to either cross into Iran or look for assistance to sneak into Turkey again. Since people in the border villages are poor, they also lend a helping hand. Some Kurds even facilitate their release from the border police, charging between US $ 250 and 400 and helping them reach the gurdwara in Teheran. Others are pushed into Pakistan," reveals another youth, who had managed to reach the gurdwara on paying $ 250 dollars to a Kurd.
Until last month, the agents used to make the kabootars (illegal immigrants) enter into Iraq from where they would join groups of "donkeys" (illegal immigrants are referred as donkeys in West Asia). But now this channel has been closed. "We were in Baghdad for a few days before we left for our next destination as donkeys," discloses another victim, alleging that agents have tie-ups with the police and other authorities.
Donkey, explains a victim, is the name given to a group of aliens who are moved, mostly at night, either in specially crafted light and medium transport vehicles or made to walk through inhospitable terrains criss-crossing international borders. These vehicles are otherwise used for ferrying sheep and cattle. "If you are a 'donkey' then you should be prepared to wade through snow, slush, mud and difficult terrain. Sometimes, we had to walk for 24 hours at a stretch, without food and water. Our ordeal continued for almost three months till we, a group of eight people, managed to reach the Iran border and a Kurd helped us to reach the Teheran gurdwara," reveals a youth from Punjab.
"We managed to reach Greece from we were deported. In all, we were eight Indians, 55 Pakistanis and 10 Bangladeshis. In Istanbul, Greece, Lebanon and even in Jordan, the agents have set up open shops. For example, the rates for reaching Greece from Lebanon or Turkey vary. A truck-trailer at US$2,600 works out as the cheapest mode of transport, while the speedboat or ship at US $3,000 to 3,200 comes under the costly category.
"Money is taken only after one has reached the destination," says Balbir Chand, who was deported from Greece. "I was to pay US$450 on reaching Istanbul. Since I was caught on the way, I did not pay anything."
In Turkey and Greece, the immigration officials are strict. They take fingerprints and collect as much data as possible to ensure that the alien does not attempt to sneak into their country again.
"In one case, five aliens were fired upon after they did not stop at a check barrier. A driver and an Indian boy were killed in the firing, while the other three occupants, all Pakistanis, were taken in custody. The body of this boy is yet to reach his village in Doaba," reveals Daljit Chand, also a victim.
Interestingly, not many of the victims or their parents show any interest in filing criminal cases against the agents because they apprehend a backlash or closing of channel in future." When things improve and authorities become lax, I may try again," says one of the victims, a 23-year-old from Kapurthala. "I have nothing to do here. No one is going to give me a job because I am a school dropout. Even if I get a menial job in Europe, I can support my family and parents back home. Doing the same job in India, I cannot even support myself.