'Film fests can do without govt patronage'
Amitabh Srivastava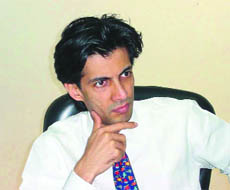 Neville Tuli
The recently concluded Asian Film Festival in Delhi (July 14 to 25) was an eye-opener in many ways. To film buffs and the media alike it was a miracle that a programme held on such a large scale with the participation of over 90 films from 30 countries and 100 film personalities with seminars, lunches and dinners thrown in could be held without the participation of the government.
The credit for the show goes to Neville Tuli, Chairman of the Connoisseurs of Art, who collaborated with the Cinefan Association that had organised the five Asian Film Festivals held in the capital in the previous years.
Says Neville Tuli, "I have set up this organisation because I am convinced that India has a rich heritage of 6000 years of spiritual knowledge. This has to be balanced with economics so that creative minds do not have to compromise their integrity for lack of patronage."
Prithvi Theatres had to be closed down due to lack of patronage while the wayward genius Guru Dutt, creator of classics like Pyassa, Kagaz ke Phool and Sahib Bibi aur Ghulam, died a tragic death. One of the highlights of the festival was the screening of a retrospective of Guru Dutt's films.
When he came to India 10 years ago, Tuli planned to set up the biggest university of arts in the country but says the project is behind schedule.
Osian's, India's first auction house and premier arts institution, was established in 2000 as part of Tuli's vision of a new model for Indian arts, which envisaged a merit-conscious and financially self-sufficient infrastructure.
What makes this project original is the fact that it is being done without taking recourse to the traditional forms of art patronage — government, corporate or philanthropic.
The auction house, which conducts curated auctions and brings out publications based on extensive research, constitutes the commercial wing of Osian's while the Archive, Documentation and Research Centre (ADRC) undertakes the task of documenting and preserving the artistic and cultural heritage of the country.
In February 2001, Osian's curated its first auction, India: The Passionate Detachment. Thereafter, the auctions have displayed a rare diversity in theme
"I wanted to create a set-up which would provide the back-up and infrastructure that would allow creative minds to flourish without bothering about finances or government patronage. The intention is to use money to serve creative ventures and not vice-versa. The aim is to energise the system so that no one needs to compromise his idealism," he says.
A 40-member group is part of the company in which Tuli has 60 per cent shares.
The achievements that Tuli has notched up so far have been encouraging. "When I started this company the challenge before me was to find a way whereby the private sector could be used to create a public institution. I decided to set up a corporate body that would allow me to provide financial support to artistes and lovers of fine arts," he asserts.
"The problem with the great minds in India is that they have a lot of ego hassles. Geniuses should be without ego. As Chairman of the company, I could have been sitting comfortably in my air-conditioned office but I do everything from arranging the boards to managing the stage because I know this is my show and it should be the best," he says.
A problem with such set-ups is that these are often subject to one person's whims and fancies. "Such fears are unfounded. We have a board of directors comprising independent minded personalities and they would act as the best guard against any such tendency," he asserts.
His only fear is the question mark hanging over the institution's future. "Look at what happened to Santiniketan set up by late Rabindranath Tagore. But that is a risk one has to take since the government has failed to set up any world class institution so far," Tuli says.