Nazi ties tainted her art
Vikramdeep Johal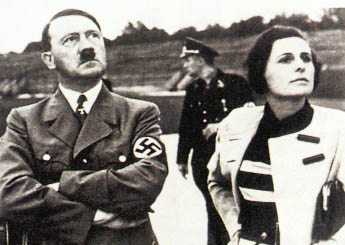 Leni Riefenstahl with Adolf Hitler
A plane descends from a mass of clouds on a city, its shadow resembling a cross. As it lands, accompanied by deafening music, it seems as if Christ is returning to earth. Out of the plane emerges Adolf Hitler, haloed by the sun, facing a mammoth crowd. Hordes of blonde Aryan youths exclaim in unison, "Heil Hitler!"
This mesmerising scene is from Triumph of the Will (1934), arguably the most powerful propaganda film ever made. Its creator was Leni Riefenstahl, a remarkable woman who possessed good looks, great stamina and a fertile imagination, plus oodles of panache.
She was infatuated with Hitler, believing he was the greatest man alive. Though she neither joined the Nazi Party nor accepted its honours, she naively allowed its leaders to exploit her immense talent for political ends. Much to Leniís discomfiture, her Nazi ties dogged her to her dying day. She kept claiming that she had never subscribed to Hitlerís racial theories, that her masterpiece was just a documentary, with no political agenda, but not many people were convinced.
Born in 1902, the daughter of a plumber, Leni initially trained as a dancer. At the age of 18, she was taken up by film director Arnold Fanck. Her success was so rapid that she was soon writing and directing her films, besides starring in them.
She caught the eye of the Fuhrer not only for her work, but also for her bohemian lifestyle. Causing a sensation or two was second nature to her. An adept skier, she once took to the slopes in a bathing suit; on another occasion, she spent six weeks in a cabin on Mont Blanc with eight male members of her cast.
Hitler himself commissioned her to film the Nazi Party Congress in Nuremberg. Triumph of the Will set out to reveal the "order, unity and ambition of the National Socialist Movement". The clever camerawork made the Nazi leaders look like gods, dwarfing the masses. The militaristic pageant was elevated to a spectacle of mythical proportions, inspiring awe in Germans as well as foreigners.
Even though Leni had the resources of the state at her disposal for making the film, she began to feel the overbearing might of fascism. In June 1934, when the film was half-finished, some of her leading actors were gunned down during the Roehm purge, forcing her to re-shoot many scenes.
The success of Triumph of the Will made her the presumably unwitting hub of the Nazi propaganda machine. An elated Hitler then gave her an even bigger project ó capturing on film the 1936 Berlin Olympics. Her brief was simply to highlight Aryan superiority, but she went on to glorify "the power and beauty of the human body", irrespective of race or colour. The filmís lack of racial bias infuriated Joseph Goebbels, the Propaganda Minister, who forbade the German press to even mention her name for several months.
Olympia, officially shown to Hitler for the first time in 1938, came to fruition through Leniís passion and devotion. In her own words, she "lived in the editing room for a year and a half, never getting home before five in the morning." She had her laboratory fitted with glass partitions, over which she hung long strips of film so that she worked surrounded by her raw material. The result was a landmark in sports coverage, an epic chronicle of Hitlerís biggest propaganda event.
In 1938, she went to Hollywood for a private screening of her film but, though it was well received, she was herself snubbed. She began World War II as a photojournalist covering the invasion of Poland, but abandoned her unit when she saw German troops massacre a group of Jews; her complaints to the authorities went unanswered. She began shooting her own film, Tiefland, casting herself as a flamenco dancer, but it could not be completed. In 1945, she was arrested by American troops, and spent four years in detention camps.
She finished Tiefland in 1954, which was seen by one critic as her "rejection of Hitler and the Nazi regime". Later, Africa became her focus of attention, where she did photo studies of vanishing tribal cultures.
Leni Riefenstahl died last year at the age of 101, outliving the Fuhrer by no less than 58 years. In a supreme example of "triumph of the will", she survived several things ó the fall of the Reich, incarceration, tough grilling in "de-Nazification" courts (which cleared her twice), a road mishap and a helicopter crash (when she was 97).
She was misguided, people said; I was misunderstood, she said. In an interview shortly before her death, she stated that had she known Triumph of the Will would haunt her for life, she would never have made it. Ironically, this exceptional artist who was way ahead of her time failed to foresee the personal and historical ramifications of her work.