TELEVISION
Stages is set for Farooq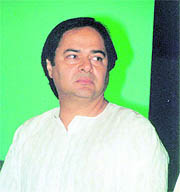 Apart from taking stars down memory lane and recreating some cherished moments of their lives on Jeena Isi Ka Naam Hai it's his love for the stage that keeps actor-anchor Farooq Shaikh in high spirits.
The actor is busy juggling between TV sets and the stage as Aapki Soniya, the sequel to his hit Urdu play Tumhari Amrita gets underway. Apart from that he is also busy directing Azhar Ka Khwab, an adaptation of Bernard Shaw's Pygmalion.
"It wasn't a planned move at all. I took up Aapki Soniya after I read the play. I found it a great script waiting for some one to put it on stage," says Farooq.
Farooq makes no attempt to hide his excitement. "It's like doing a sequel to a blockbuster film. I am thoroughly enjoying the experience of playing Zulifiqar opposite Sonali Bendre."
Star goes back to the past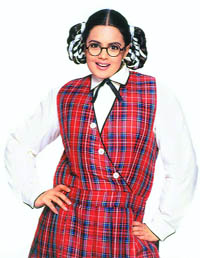 Dekho Magar Pyaar Se: One good serial deserves another
If you think Jassi Jaisi Koi Nahin, think again. Or rather, meet the second Jassi`85oops Nikki in Dekho Magar Pyaar Se Monday to Thursday 8 p.m. The bespectacled girl with a golden heart hidden in a plump body is Star Plus' answer to Sony's Jassi.
Just out of boarding school, Nikki is an orphan brought up by her scheming uncle and aunt who are eyeing her huge inheritance and her sprawling mansion.
Nikki has many dreams that she wants to realise. One of her dreams is childhood buddy Karan whom she secretly loves and who is shaping up as the country's top sportsman. Nikki's problem is that Karan already has a steady whom he intends to marry.
With a sleight of the pen, the writer seems to have created Karan as a combo of Jassi's childhood friend Nandu and her boss Aarman Sir, whom she secretly loves but who is engaged to Mallika. Hold on. The similarities don't end in physical appearances, spectacles and Karan. Like Jassi, Nikki too is a whiz at studies and has great plans for life and her love for Karan inspires her to become an admirably beautiful woman.
Sounds familiar? Sure it does. This is the biggest d`E9j`E0 vu viewers have ever had.
Spell it right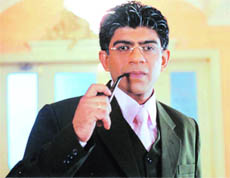 Raj in Kahani Ghar Ghar Ki
"To change your fortune, change the way you spell your name." This seems to have become the small screen's rule number one.
It may not have brought good tidings for Amar Upadhayay when he added an extra 'a' to spell his name as Aamar, but an extra 'i' has certainly changed the world for long-forgotten star Riitu Raj who now plays villain Sanjay Doshi in Kahani Ghar Ghar Ki.
"It seems to be working and I am keeping my fingers crossed," says Raj absolutely ecstatic about his big comeback. "This character I play will soon become the fulcrum around which the story revolves," says the star who also has a meaty role in Kitty Party.
Best remembered as the anchor of Tol Mol Ke Bol, Raj now going in for a complete image makeover after biting the dust in Prakash Mehra's Mr. Shrimati.
He seems to be making up for lost time with many more shows. Next on the agenda is a comedy on Sahara, then an Ekta Kapoor soap and talks are on for a serial on Zee.


Scene from Son Pari
Fun times for kids
It's kiddie time on TV as channels vie with each other to grab the attention of young viewers.
Whether these shows attract urban eyeballs is not clear but the fact is that producers are trying all kinds of innovations and tricks to perk up their TRPs.
Recently in the 180-episode-old Son Pari the character of Fruity has got a new companion 2T, a fantasy creation of fairy Parima.
Like Son Pari on Star Plus there's a whole gamut of kiddie shows. Star itself has Kabhi Kushi Kabhi Dhoom and Shaka Laka Boom Boom.
Zee has five: Magic Make Up Box, Jooth Bole Kauwa Kate, Thief of Baghdad, Khel Khel Main and XYZ.
Giving the old fox Chacha Chaudhury company on Sahara are Duby Duby Hub Dub and Kids Zone. And recently Sony has launched Hum 2 Hai Na.
Just what the doc ordered
Remember Doogie Howser M.D? Remember Kuch Kuch Hota Hai? Put both of them in a blender and run it at full speed. Then add a pinch of Munna Bhai M.B.B.S. And what do you get? Ayushmaan on Sony Entertainment Television weekdays 8.30 pm.
The serial revolves around 17-year-old child prodigy Dr. Ayushmaan and his girl pal Sonia sporting an Anjali-style hairdo. Their favourite game — you guessed it — basketball.
There is also the cantankerous Dr. Dalmia — a Dr. Asthana kind of a character — who ends up having a spat with the ever-smiling Dr. Ayushmaan on every issue. Though it's high time viewers got to see something original on TV, it must be said in favour of Dr. Ayushman that it is neatly packaged and has style and peppiness.