Step into the shoes of a footwear technologist
With India's footwear exports and domestic consumption rising steadily, it certainly pays to be in the shoes of a footwear technologist. As more and more foreign as well as domestic shoe companies scout around for footwear designers, these professionals have ample scope to grow and gain by putting their best foot forward, writes Manish Kumar Singal
IT was Uttam Kumar's desire to do something different that steered him away from the beaten track into a lesser-known, yet promising field. Having set out to become an engineer, like countless others, his life took an interesting turn when he decided to step into the shoes of a footwear technologist. And he has no reason to regret the change in career choice.

Innovative designs have given a fillip to the demand for footwear.
— Photo by Mukesh Aggarwal

Shine in field of leather technology
Deepkamal Kaur
THOUGH leather technology is primarily used in manufacturing footwear, it is also used for designing accessories like purses, jackets, bags, hand gloves and belts, sports goods and even saris. In view of the growth and employment potential of this sector, the industrialists of this town had approached the then Chief Minister, late Beant Singha, to start a four-year B.Tech course in leather technology at the Dr B.R. Ambedkar National Institute of Technology (then called Dr B.R. Ambedkar Regional Engineering College), Jalandhar.


A student at work in the Dr B.R. Ambedkar National Institute of Technology, Jalandhar. — Photo by Pawan Sharma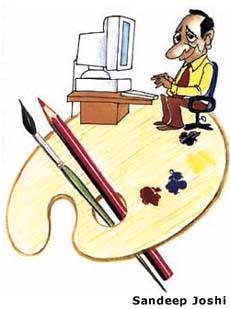 Walk into the world of web designing
Website developing, designing and hosting are lucrative options for those with the requisite technical skills, a basic aesthetic sense and a creative mind, writes Peeyush Agnihotri

IN this e-dominated era, it is often said that a business does not exist if it is not online. Those who have a flourishing brick-and-mortar business are getting their websites launched for global presence and recognition. They take the help of professional website makers. Then there are those who are working out e-business models and are launching the portals all by themselves. The end result — website launch and design is becoming a lucrative profession wherein a talented team can earn Rs 25 lakh to Rs 30 lakh annually on the lower side. Website creators can be divided into two types — those who have a definite idea of their own and prefer to earn with an altogether new concept, the B2B or the B2C (business to business or business to consumers) way. They are much sought after by venture capitalists (remember Sabeer Bhatia, the 'hotmail' who earned millions when he sold his 'working brainchild' to Microsoft).




Merchant Navy training
IN view of the large number of queries we have received from readers for more information about Merchant Navy recruitment, we are publishing a list of some institutes that can be contacted.


CAREERCATURE
by Sandeep Joshi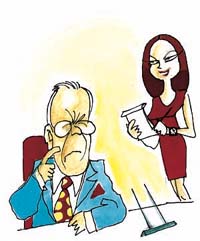 Sir, by mistake they have printed the matrimonial advertisement for your daughter in the 'career opportunities' column.

Improve infrastructure to meet manpower needs of IT sector
Manish Kumar Singal
INFORMATION Technology, one of the leading sectors in terms of growth and employment-generation, has got a new thrust again after witnessing a slump in the past two years. Says Prof. K.K. Aggarwal, the Vice-Chancellor of Guru Govind Singh Indraprastha University (GGSIU), "The IT industry is moving ahead with renewed vigour and the demand for IT professionals is increasing." He adds a word of caution, "Students should, however, not hinge their future plans should entirely on it."


SMART SKILLS
Ideas galore for working from home
Usha Albuquerque
After outlining the various factors to be kept in mind to work from home, here are some specific home business ideas:

Better terms await Indian professionals
Under the revised Framework Agreement reached in Geneva recently restrictions on the movement of Indian professionals abroad will be eased, says Gaurav Chaudhary
INDIAN professionals can look forward to better and more lucrative offers in developed countries as restrictions on their movement get dismantled within a new globally administered multilateral trading apparatus under the aegis of the World Trade Organisation (WTO).

CAREER HOTLINE
Of chartered engineers & their work profile
Pervin Malhotra