On top by cheating
Mohinder Singh

"If you don't take it, you don't make it."-Dr Mario Astaphan, doctor of runner Ben Johnson.
Florence Griffith Joyner (Flo Jo) the world-record holder in the 100 and 200-metres, died at 38. Doping is deemed as the main culprit in her early demise.
Elite athletes always have and always will pursue every competitive advantage — health and law be damned, says an IOC official.
You can't will yourself into an elite athlete by punishing workouts or training alone, they say. You have to start out way ahead of the rest of the human race. And this could be from blessed genes performance-enhancing drugs or even genetic manipulation. No amount of dedication can turn someone of average physique into a world-class sprinter.
Doping seems to be fairly widespread among our athletes. Cases keep cropping up regularly, despite our operating a relatively milder regime of dope testing.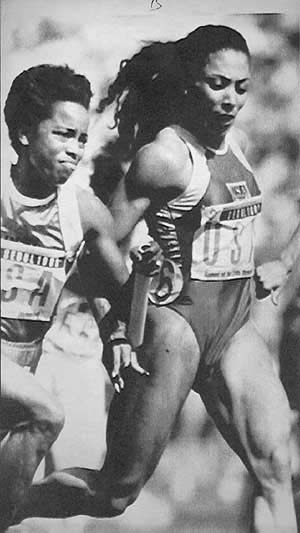 Florence Griffith Joyner at Seoul Olympics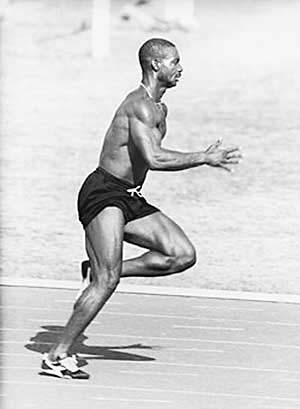 Ben Johnson: Caught red-handed
at Seoul Olympics
The history of drug abuse in sport stretches as far back as the history of sport itself. Greek athletes are known to have used stimulants to improve their performance as early as the third century BC. They gorged on mushrooms, sesame seeds, and dried figs.
Modern athletes, wanting to gain an edge without attracting penalty, may commonly take some 25 pills a day, including minerals, proteins, amino acids and the nutritional supplement creatine.
Since the 1960s sport authorities stand alerted to doping in sports (the word dope derived from the Dutch word dop, an alcoholic beverage consumed by Zulu warriors before battle). 1968 Mexico Olympics were the first to introduce drug tests.
At the international level the IOC set up a medical commission in 1967 to produce a plan to combat drug abuse in sport. A similar medical committee was established by the International Amateur Athletic Federation (IAAF) in 1972. Significant work in this field has also been done by several national sports organisations, particularly the Sports Council of UK.
The latest to be set up in 1999 is the World Anti-Doping Agency (WADA). And it is steadily gaining acceptance as the ultimate authority on matters of drugs in sports. In combination with the urine-sample collectors, and the approved laboratories, WADA is charged with making sure that the world's premier athletes are clean. Special care is taken that they have not concealed drug use through employing 'masking agents'. Diuretics constitute the principal masking agents.
WADA has been entrusted with an immensely complicated task that requires keeping up with the onrushing science, navigating legal hurdles, and testing athletes. A well-nigh hopeless task, more so when many national sports organisations lack the will, if not the ability, to catch and punish cheaters who in turn, do everything in their power to avoid testing.
One primary motivation to cheat is the conviction that everyone else is cheating.
Controlling drug abuse by athletes is proving most challenging.
The first difficulty is about agreeing upon a list of proscribed drugs. The IOC Medical Commission drew up a list of prohibited drugs and procedures in 1986 (has been amended since then from time to time). The list covers stimulants such as amphetamines, and the more common stimulants, including caffeine, and hay fever preparations; narcotics, painkillers, including morphine, codeine; anabolic steroids, which increase muscle bulk; beta blockers, designated to relax muscles; diuretics, used to flush drugs out or to reduce weight quickly in weight-related events; cannabinoids, such as hashish, marijuana; and finally some hormones which can be used to increase tissue growth. The list also covers banned practices such as blood doping and urine substitution.
In general, only those drugs are included for which satisfactory testing methods have been evolved. Recently EPO, meant to speed up the body's production of red blood cells in anaemics, that enabled athletes to absorb more oxygen, was banned because scientists have developed ways of identifying it through blood and urine testing.
And now the spectre of genetic engineering, a frightening future. What if someone introduces an EPO-producing gene into the arm or leg of an individual that produces EPO at a constant level? It would require an enormous amount of research to be able to tell the difference between that EPO and natural EPO.
In another genetic breakthrough, experiments on laboratory mice have produced monster mice by increasing their levels of IGF-1, an insulin-like growth factor that promotes muscle growth. A successful introduction of the Human Growth Hormone can produce some unbeatable athletes. The idea is to introduce such a gene along with a virus (the latter known for their facility in invading the human system). Later when the growth gene is duly lodged, the virus can be eliminated through drugs (destroying the taxi after the passengers has been through).
The usual urine-blood tests won't show up such a gene. At the minimum, you need a biopsy. Athletes may be unwilling to undergo an invasive muscle biopsy before a competition.
Gene therapy has this advantage over oral drugs. It targets more effectively than drugs and is much harder to detect. But then drugs can be discontinued, while gene therapy is almost irreversible.
The mismatch in resources between anti-doping agencies and the world's pharmaceutical industry is obvious. The research to counter drug abuse in sport isn't moving fast enough to keep up with pharmaceutical advances.
Is it scientifically possible to stay ahead of the cheaters? The rogue scientists, the coach-gurus, and the ingenious supporting doctors have been winning for years, and they have ever more tools available to them.
Some recent reports, for example, speak of more and more athletes taking to a substance as elementary as insulin to boost their performance illegally. In bodybuilders, insulin works alongside anabolic steroids to consolidate muscle tissue. Steroids spawn new muscle and insulin prevents it from breaking down. Insulin also bolsters stamina in middle-distance runners by enabling them to load their muscles with glycogen, "fuel" before and between events. And insulin vanishes rapidly from the body with half of it gone in as little as four minutes. Even if it was detected, there'd be no easy way to distinguish it from a person's own insulin.
On top, comes the cost of conducting the drug tests, at approximately $ 150 per test. Around 50,000 tests are conducted each year throughout the world, And still these aren't proving sufficient deterrents.
Test laboratories are another problem. Only 15 now stand accredited. A few accredited ones have withdrawn on score of their being too expensive to maintain.
Our Sports Authority lab is still awaiting international accreditation. Only SRL Ranbaxy lab, a private lab, has the requisite IOC certification.
Among the international governing bodies combating drug abuse, the IAAF has been the most prominent. It not only carries tests for its own championships but also aids other athletic organisations, financially and technically, to promote testing.