PUNJABI ANTENNA
Dancing to different tunes
by Randeep Wadehra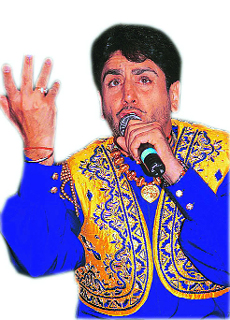 Gurdas Mann goes patriotic with Lakkh Pardesi Hoiye
In the past fortnight news channels remained preoccupied with politicians, criminals and controversies. The SYL contretemps held prime attention even while assorted court cases against Badal and Amarinder got due coverage. Then there was the sordid Kohli saga with assorted law enforcing agencies playing dog 'n' the bone. The news of Jagsir and his comrade in the Pakistan captivity, as also the plight of Indian truck drivers in Iraq sent viewers on an emotional rollercoaster. Such is life, miserable at home and perilous abroad.
This time Dimple (I Want on MHl) was asking people in McLeodganj what they thought of the new-age adage Neki kar tay tchittar kha (do good and get brickbats). Barring one, all agreed that ajj de mahol vich neki karna khatarnaak hai. With Buddhist monks hovering in the background, the debate seemed a bit incongruous. However, one enjoyed the momo-eating competition that came as the show's finale.
Dial-E-Punjab (Saturdays, 9pm), a live phone-in show, is the latest from Alpha Punjabi for lovers of Punjabi music; Bhagwant Mann and Jasmin Bhatti are the emcees. Music has become the staple of Punjabi channels. Live and recorded shows of famous Punjabi pop singers are the norm. Pargat Singh, the lyricist, on ETC's Star of the Week, and the singer Sukhshinder Shinda on MHl's Ek Tara Bole too were talking music. Shinda was all for fusing techno with the traditional Punjabi genre — especially bhangra — while Pargat swore by Punjabi Sabhyachar. But, while watching the songs penned by the latter, one couldn't help noticing the concessions made to market demands.
In fact, earlier in an interview, Shankar Sawhney too had bravely talked of keeping the traditions intact although his productions are eloquent homage to the extant market trends. Amidst the cacophony, the channels put out Gurdas Mann's soothing lilt in the form of the patriotic Lakkh Pardesi Hoiye or the emotional Kee Khattya Main Teri Beer Banke?