STAMPED IMPRESSIONS
Racism still rampant
Reeta Sharma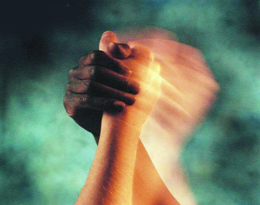 England is just the same. Nothing has changed. This beautiful country is as beautiful and well-maintained as it was three years ago when I visited it. Everything appeared the way I had left it. The roads, the parks, the markets, the bus stops, public toilets, libraries, museums, theatre shows, and cinema halls ó nothing had deteriorated in any way.
Is it because of the fear of law that people of England neither take liberties nor abuse any of the public places? Or is it plain self-discipline acquired by each individual while growing up? I think it is a combination of both these factors. English have evolved a perfect way to train human beings to build a society where every individual plays the role of a responsible citizen. Students are groomed to take pride in their country, learn traffic rules and realise that roads are the common property of all citizens. No wonder, the pedestrian gets the respect he deserves. The rules to keep the public places clean are taught in all seriousness both at home as well as school. It is this drilling that ensures that once the children grow into adults, they automatically act as responsible citizens.
Despite the fact that England is such a tiny country with narrow roads, the traffic, consisting of huge trucks, cars, fast motorbikes, big buses and cycles, runs smoothly. Itís amazing how everybody "gives way" to the others without fail. Nobody jumps red lights or uses horns. Nobody jumps any kind of queue. There are no fears of being fleeced, whether one is shopping for potatoes or a Mercedes. Ah, the perfect English world with a blissful quality life.
But this perfect world is blotched by ugly and violent racism and imperialism. Despite having ruled the world, the English have never been able to grow out of racism. The British have succeeded in imparting perfect civic sense to its citizens but a world that speaks of peaceful co-existence and respect, compassion and kindness for fellow human beings is still alien to them.
The incidence of brutal and violent attacks on Asian communities has been on the rise. Many Asian families have been attacked even within the safety of their homes. Despite the contribution of the Asians in the economic growth of Britain, racist attacks continue to occur.
Hereís a shocking case of racism: Empire World Trade (EWT) is Englandís largest fruit packer company, earning `A377 million per annum. They have been employing South African migrants through an agency first extends loans to the migrants and then exploits them as bonded labour. These migrants are paid less than a `A31 a week.
Similarly Greek gypsies have been working like slaves on flower farms in Cornwall. The British agency had hired the gypsies for `A334 a day. They were literally made to live and work like slaves with canned dog food for dinner. Kept as bonded labour by the henchmen of the company, they were badly beaten up whenever they made a bid to escape. Surprisingly they were working legally with Winchester Growers, Britainís largest flower producers. This sector with an annual daffodil harvest of `A350 million has no qualms about exploiting the poorest of the poor. The migrant labour was paid just 6 pence for plucking 12 stems. They were made to work nine hours a day irrespective of weather conditions.
Yet another shocking incident that has come to light has been that of Chinese cockle pickers. As compared to English workers who got `A315 per bag, the Chinese labour was being paid only `A36. Out of this too, unexplained administration fee of `A32 besides some other charges were being deducted. At the end of it all, the Chinese labour was getting merely `A31. To rub salt to their wounds, they were not even provided any safety equipment or vehicles. On February 5, as many as 20 of them had met their watery grave.
It is ironical that a country that adopted the policy of multiculturalism to assert that it believed in co-existence of different cultures should so blatantly exploit human beings who are not English. It even established a Commission For Racial Equality (CRE), which has spread its wings all over the country. But the racist approach keeps surfacing time and again.