Lives interrupted, dreams live on
by Roopinder Singh
Dreams after Darkness
by Manraj Grewal. Rupa & Co., New Delhi. Pages 224. Rs 395.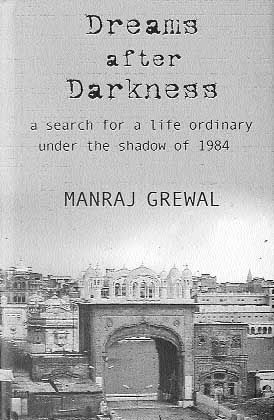 Individuals whose shadow loomed large over Punjab during the "dark decade" between 1983 and 1993 when violence punctuated ordinary life in the state come alive in this series of 10 interview-based accounts by Grewal. In just less than a decade after militancy in the state was declared over, that time seems a historical fact more than a lived experience that impacted the lives of thousands of persons living in Punjab and the reverberations of which were felt around the world.
When we think back on the decade, it seems almost unreal — the tension, the violence, the rule of the gun, a breakdown of law and order machinery, perversions on various sides of the fence, and a climate in which truth was the first casualty. You were either on the side of the police or the militants, everything was black and white, and there were no shades of grey. Violence begot greater violence in what seemed to be a never-ending cycle. If one side broke the law, the law enforcement agencies resorted to extra-constitutional methods.
It was only last month that the National Human Rights Commission released an advertisement related to its investigation regarding illegal cremations of 2,097 bodies in the police districts of Amritsar, Majitha and Tarn Taran between June 1984 and December 1994. The matter relates to compensation for the victims and fixing responsibility for the illegal actions.
Yet the people of Punjab seem to have relegated this unfortunate and traumatic phase to the dark recesses of their minds, and are carrying on with their lives, as are some of the principal protagonists of the book, who have moved on.
Gian Singh, assassin of Sant Harchand Singh Longowal; Karamjit Singh Sunam, who tried to kill Rajiv Gandhi; Nirmal Singh Nimma, co-accused in the Vaidya murder case; Wassan Singh Zaffarwal, former chief of the Khalistan Commando Force; Kanwal Paul Singh Dhami, ex-head honcho of the Akal Federation; Attinderpal Singh of the All-India Sikh Students Federation; and Ranjit Singh Gill "Kuki", accused in the Lalit Maken case, all feature here.
Grewal is to be credited with wining their confidence and giving us reportage that allows us to revisit them. Obviously, many things are too sensitive to be discussed, even though these are the very details that we would find most interesting. Some of the people are more forthcoming, while the others are evasive, and many are given to politicking. There is no doubt that what they did affected the lives of those they worked against, as well as those they loved, since the families, too, were sucked into the whirlpool of violence, revenge and retribution.
There are also accounts of the survivors, or the immediate families of those who died violently. These include Ishar Singh, elder son of Jarnail Singh Bindranwale; Harbinder, Gurbinder and Harjinder, sons of former Bhindranwale Tiger Force chief Gurbachan Singh Manochal; and Sarabjeet, Amrit and Harinder, children of Beant Singh, who assassinated Indira Gandhi.
They are distinct personalities. Gian Singh has turned into a writer. Karamjit Singh runs a school, as does Dhami. Nimma, ever the wheelman, still drives, now for the SGPC. Zaffarwal has become a homoeopath. Beant Singh's widow became a Member of Parliament, as did Atinder Pal Singh. Isher Singh dreamt of being a doctor and now he wants his children to fulfil his dream. Kuki wanted to go to the USA; he did, only to spend most of his time in jail.
They all had dreams that were interrupted. They disrupted many lives and now they are rebuilding their own. The introduction paints a broad canvas which helps place such individual stories in a larger perspective, and the 10 stories are varied in their depth and sweep and help bring across a very human face of militancy. This is not academic analyses, nor a tome; it is a readable book, with some warts, which brings the reader closer to some key figures of a troubled decade. By not giving a conclusion, the author allows the reader to draw his or her own inferences.
We seem to have rendered invisible the trouble decade of Punjab. In it lies the strength of the state that has had to deal with more than its fair share of trauma — survivors of Partition and massacre that came with it have rebuilt their lives and are still around and so are those whose dreams were torched into darkness by militancy. Yet we can't sweep the trauma under the carpet. Documentations like this bring to life stories of individuals qua individuals, quite like others, though shaped differently by personal ideals, ambitions, demons and circumstances.