Short takes
by Randeep Wadehra
Look, the Moon!
by Sandhya Rao. Tulika, Chennai. Rs. 70.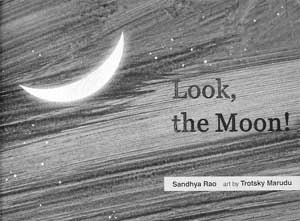 Right from infancy wonderment becomes a factor in one's growing up process. The many-splendoured nature — birds, animals, plants, snowcapped mountains, flowing streams, germination of seeds — never ceases to amaze children. Among all these the moon holds a special place. After all chanda mama is part of our folklore.
It glides across the star spangled black canopy, spreading its milky-white sheen even as it constantly changes its shape and size, playing hide and seek with earthlings, at times using the clouds as a screen and then, impishly, not appearing at all for a couple of days. This keeps kids enthralled.
This imaginatively produced and eloquently illustrated lovely book is a must read for growing children.
Kolaba
by Sandhya Rao. Tulika. Rs 80.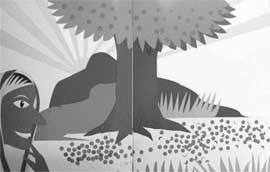 Ah for those bedtime tales that grandma used to narrate ever so softly and vividly into our ears — taking us to a world peopled with dainty fairies, gallant princes and lovely princesses and occasionally real people and animals — all speaking a common language. We, as kids, never questioned the tale's premise that humans and animals could actually converse with each other. We just listened to the tale, wide eyed, punctuating it with appropriate exclamations. Fox has been a fabled character — whether flattering a conceited crow into singing and thus losing the piece of bread or cheese held in its beak, or calling the grapes sour out of sheer frustration.
In this originally Marathi story Kolaba, a greedy fox, is vying with Sonabai, a halwa-seller, for the juicy red berries that grow in front of her house. Who wins the battle of wits? Your kids will tell you if you gift this beautifully worded and illustrated book to them. By the way, did you know that kolhaba is Marathi for fox?
What plagues the police
Who Cares?
by Dr Jitendra Jain. S. Dinesh Sales Corp., Jalandhar. Pages 204. Rs 195.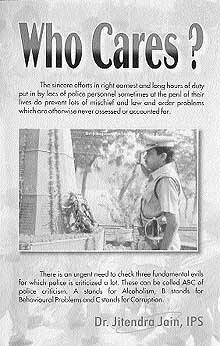 The umpteen, albeit spasmodic, attempts to refurbish the not-so-bright image of the Indian police have failed for various reasons. Chiefly, the colonial mindset of the rulers and the ruled alike is to blame. Police was an instrument of suppression in the hands of the British, which is now being cynically used by free India's politicians as quasi-feudal militias to terrorise the common people into submission. There is not a single state in India where the police is looked upon as people-friendly — despite tall claims to the contrary. Worse, our police force is getting increasingly criminalised.
Is politicisation of the force the only reason for such a sorry state of affairs? The author points out that since policemen are products of a society, their values mirror the norms prevalent in the society. However, reforms in the police force are long overdue.
This book takes a look at the history of the police in India and the causes for its present ailments, and suggests various remedies. Chapters like Corporate Cult in Policing, Crime Analysis and New Horizons are worth a read. Jain has also given enough space to public comments and the policemen's reactions thereto. At the end of the book there is a list of abbreviations that should be of use to readers.