Encounter with a torrid past
by Rajdeep Bains
The Wages of Life
by Vikram Kapur. Srishti. Pages 239. Rs 250.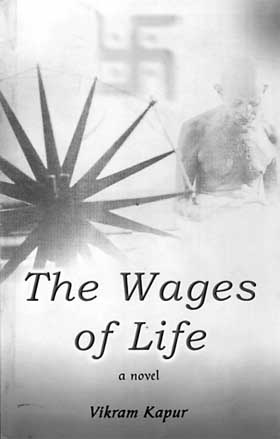 One thing all of us are sure of is our own past. What if we are suddenly faced with a past we never knew existed? What if it changed history, as we know it? Ravi Malhotra, computer engineer from Seattle and hero of Vikram Kapur's latest novel, is faced with just the same dilemma. Being part of national history is not always a pleasant experience.
Kapur has managed another winner. His sensitive debut novel brought out the mystery surrounding Indira Gandhi's assassination and its terrible aftermath in the 1984 anti-Sikh riots. With his latest novel, he reaches farther back in time to Mahatma Gandhi's assassination and the intrigue involving it.
We all know that Nathuram Godse assassinated Mahatma Gandhi, but many of us may not be aware of the entire picture. In The Wages of Life, Kapur takes us through the complex pathways of the Hindu nationalist movement in pre-Independence India, and gives us an insight into the psyche of the leaders, of which Godse was one.
It all begins when Ravi arrives from America to discover that his father's death in an accident was anything but that. Ashish Malhotra, a noted journalist and an ex-Hindu nationalist, as Ravi discovers in his search for the killers, was murdered to cover up a major conspiracy to foil the India-Pakistan peace process.
Ashish Malhotra, or Ranbir Lal as his real name turns out to be, is an ambitious young man, an orphan with no real friends, until he meets Aditya Gokhale, a recruiting agent of the Rashtriya Swayamsewak Sangh. Aditya's easy acceptance of him lures Ashish deeper and deeper into the quagmire of political intrigue till the day his allegiance is finally tested when he finds himself part of a group plotting Mahatma Gandhi's death. Wanting no part of such openly militant activity, he flees to make a new life for himself. The past, however, has a way of catching up with people, and more than 50 years later, Ashish finds himself yet again involved in the activities of his old friend, Aditya. His sudden death after that is a mystery that only the determined actions of his son can solve.
Ravi's search takes him to Sapna Sood, a research scholar in Jawaharlal Nehru University, who is the last person to have spoken to his father. With her help, Ravi uncovers a complicated plot that begins with Mahatma Gandhi's assassination, runs through the unfortunate Kargil war, which cost both India and Pakistan so many lives, and finally culminates in the India-Pakistan Summit and President Musharraf's visit to India.
Kapur's fast-paced narrative transports you back and forth in time with an ease that shows the depth of his research. The details of the political scenario through the 1930s and '40s, the references to real-life characters like Nathuram Godse, and later to Musharraf, lend the work a realism that makes it informative as well as enjoyable.
Partition is part of the history of every Indian and Pakistani. The haunting images of the massacre that took place during the Partition riots and the struggle for survival in the refugee camps make the work easy to identify with.
The similarity with his earlier work is obvious. Both novels deal with well-known episodes in Indian history, both mix historical facts with fiction, both have protagonists settled in Seattle and both are meticulously researched. Yet The Wages of Life is different. It is a more mature and complex work, on a far more difficult subject. One does tend to find his style a bit repetitive, but it shows a confidence that was lacking in his earlier work.
The Wages of Life is a gripping tale of patriotism gone wrong and the desire for political immortality that makes life an expendable commodity.