Gulzar's vision of timeless classics
Poet-filmmaker Gulzar talks to Saibal Chatterjee about his much-awaited tv serial on Munshi Premchand's stories.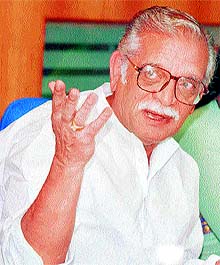 Gulzar has been an indefatigable creative force for the past four decades. A poet-lyricist-writer-scenarist, he has to his credit over 50 screenplays, five anthologies of poetry, two collections of short stories, 16 books for children and countless memorable lyrics. But his fecundity as a filmmaker — it is on his directorial avatar that much of his mass popularity hinges — has dwindled markedly in recent years.
Gulzar made his last film, Hu Tu Tu, way back in 1999. "It is not easy finding funds for a venture these days if you aren't willing to dilute your artistic vision," the veteran of 17 features, three TV serials and two documentary films laments. But even as the wait for a new big-screen essay from the seasoned poet-filmmaker shows no signs of ending, Gulzar is out with signature interpretations of a clutch of classic stories by one of the greatest writers ever born in India, Munshi Premchand.
The 26-epsiode serial, Tehreer.... Munshi Premchand Ki (The Writings of Munshi Premchand), has been commissioned by Doordarshan. It includes multiple episodes of the celebrated Hindi-Urdu litterateur's best-known novels, Godaan (The Gift of a Cow) and Nirmala. "I have designed these two stories as full-fledged films because the episodic structure of a television serial would have affected the continuity of the novels," the director explains.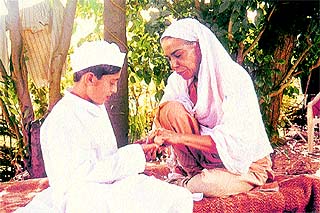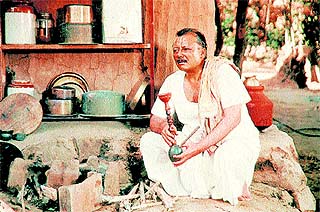 (Top) Surekha Sikri with co-star and Pankaj Kapur (bottom) in Tehreer… Munshi Premchand Ki
Gulzar's Godaan runs for four and a half hours, while Nirmala is roughly half that length. The series kicked off last week on DD's National Network with the telecast of Godaan in two parts on consecutive days. "It is a bit like a long feature film," he says. "As a medium, television is very different from cinema. Shooting a TV serial is like making several celluloid films at one go. It can be extremely gruelling," adds Gulzar.
Tehreer`85 Munshi Premchand Ki, scheduled for telecast on prime time every Sunday, will conclude in the second week of October with the airing of Nirmala in three parts after individual episodes woven around nine short stories from Premchand's fabled oeuvre have run their course.
Gulzar has culled out a preferred portion from Godaan for his telefilm. "I have focused on the story of Hori and Dhania's struggle for survival in the village, leaving out the segment in the city in which they are absent," he says. "The language, style and spirit of the story, however, had to be preserved. Godaan is a classic of Indian literature and I could not have tampered with its core," Gulzar adds.
This isn't of course the first time that Gulzar has resorted to such condensation of well-known literary material. In the mid 1970s, he had done much the same with Sarat Chandra Chattopadhyay's Pandit Moshai, which formed the basis of the lyrical but emotionally intense Khusboo. "Back then, I had taken only the first three chapters of the novel plus the climax. That was more than enough for a whole film," recalls Gulzar. "Had I opted for the entire Godaan plot, it would have yielded a 12-hour film. I have, instead, sought to capture only the essence of the novel."
Godaan, which depicts the overwhelming tragedy of India's rural poor in the face of social and economic exploitation, features actors of the calibre of Pankaj Kapur and Surekha Sikri in the pivotal roles. "Such is the emotional power of their performances," says Gulzar "that we would often have lumps in out throats during the shoot."
Godaan, asserts Gulzar, is still as topical as ever. "The state of our villages has only worsened. Farmers still commit suicide and starving women are forced to sell their children for a pittance. We must, therefore, listen to Munshi Premchand's timeless voice. It is still relevant."
Nirmala, adapted by Gulzar in a two-and-a-half-hour film, is pretty much in the same classic league. Featuring popular Marathi stage actress Amrita Subhash in the title role, it traces the life of a young girl who is married off by her poor family to an elderly father of three children. "Amrita," says the filmmaker who has a way with actors, "is the star of the Marathi version of My Fair Lady (a role once played by the late Bhakti Barve-Inamdar) and has a sizeable fan following."
Tehreer has been shot on Digital Betacam with a total budget of Rs 1.5 crore. Doordarshan has already sold enough commercial time to be able to make much more than its investment. According to the Prasar Bharti CEO, Mr K.S. Sarma, Tehreer has fetched Doordarshan Rs 10.5 lakh per hour against the prevailing rate of Rs 7 lakh. That, in the words of the official, is "a happy development indeed".
Among the nine Premchand short stories that Gulzar has turned into single episodes are the evocative Idgah, about the bonding between a little boy and his grandmother, the distinctly Chekhovian Pus Ki Raat, which deals with a farmer and his dog who guard crops on a freezing night, and Namak Ka Daroga, the tale of an honest man who loses his job for not succumbing to corruption, and the unforgettable Kafan.
Gulzar's pronounced literary leanings have prompted him to frequently adapt the works of well-known Indian writers for the screen. His last two films, Maachis and Hu Tu Tu, however, were grounded in contemporary socio-political realities. Tehreer marks a return for Gulzar to familiar turf: literature. "There is hardly any literature in cinema and television today," he says. "I have made this serial in a bid to rectify the imbalance to whatever extent is possible."
For that very reason Gulzar is also keyed up about the upcoming launch of the DVD of Mirza Ghalib, a widely applauded TV serial that he made over 15 years ago. But deep down somewhere, the sensitive filmmaker is disconcerted by the inordinately long break that has interrupted his cinematic output following the commercial debacle of Hu Tu Tu.
He is currently in negotiations with a Mumbai film production house for a new celluloid project. What is he likely to make next? Gulzar has two concepts on the anvil — one a free adaptation of his own Partition story, Raavi Paar, the other an exploration of the life of Tansen and evolution of his music.
The trouble is that the Bimal Roy prot`E9g`E9 has for long been at odds with the profit-driven moneybags of Bollywood. Expectedly, a touch of exasperation, even perhaps impatience, has seeped into his soul. No matter which of the two scripts is green-lighted first, it would not be a day too soon for a creator whose best is yet to come.