TELEVISION
Mother's the word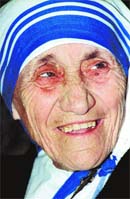 Only a handful respond to the Almighty's call to serve mankind in a way she did. On October 19, 2003, the Vatican carried out the beatification of Mother Teresa and she became a saint.
On Friday, August 20, the History Channel airs a rare programme on the life of Agnes Gonxha Bojaxhui, the daughter of an Albanian grocer who made Kolkata her home to serve the city's poor and destitute.
Find out more about Agnes now known to the world as Mother Teresa who was considered by many as a living saint in her lifetime.
In her five decades of serving the poorest of the poor laid the foundation of the Missionaries of Charity that today has more then 3,000 devoted members spread in 25 countries.
Lucky Rakshanda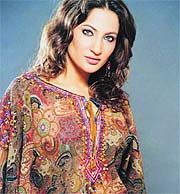 Rakshanda…Multi-channel appeal
It requires loads of luck to star in the chart toppers of two rival channels and it requires even more character to keep your head squarely on your shoulders.
This is where the glamorous Rakshanda Khan scores. The model-turned-compeer-turned-TV-star who plays Mallika Seth in Jassi Jaisi Koi Nahi on Sony and Tanya in Kyunki Saas Bhi Kabhi Bahu Thi on Star Plus is literally over the moon.
So how does it feel to be an important part of two top-ranked soaps? "It can't get bigger then this, at least for me," says Rakshanda who is also anchoring a weekly show Ab Aayega Maza on Sony. The talented actress who shot to fame with Top Of The Tops on Zee TV says the two roles are diagonally opposite. In Jassi, she is transforming from a happy-in-love person to a jealous and insecure woman. In Kyunki Saas Bhi Kabhi Bahu Thi, she's a vamp who changes into a sweetheart.
So where does Mallika Ma'am go from here? "Let me enjoy this enviable position for sometime and then I'll decide what else to do," says the lady who has been likened to a line of showbiz Muslim beauties like Madhubala, Meena Kumari and Tabu.
Double impact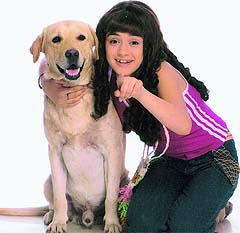 Hum 2 Hai Na…Wonder years
Shah Rukh Khan may have carried Main Hoon Na on his shoulders but when it comes to kids, a pair always makes better company. This is what the think tank of the Sony Entertainment Television is banking upon. The channel's new primetime show Hum 2 Hai Na, an adaptation of Latin American series Complices Al Rescate (Friends To The Rescue), is a tale of two identical teenagers Kareena and Koel.
The girls come from contrasting worlds but are the best of friends. Sharing their affection is a talking dog Bruno. The twist in the tail comes when the two realise they are twins.
With Hansika Motwani doing the twin act and a star cast of Benjamin Gilani, Shruti Ulfat and Nigar Khan, the channel could have had a sure winner on its hands. But poor production values dilute its impact. Sony should know that cutting corners never pays...especially on TV.— NF