Ulta pulta
Media hype
Jaspal Bhatti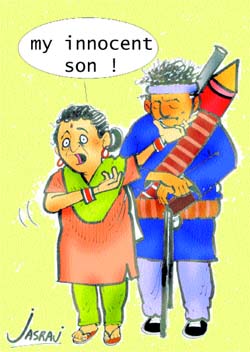 The media creating a sympathetic wave for a hero is always welcome and called for, but doing the same for a rapist or a murderer doesn't make any sense at all. Dhananjoy Chatterjee, convicted of raping and killing a 14-year-old schoolgirl Hetal Parekh, seems to be getting the media's attention for the wrong reasons.
His parents are being interviewed and they have threatened to commit suicide if their son is sent to the gallows.
Highlighting facts like Dhananjoy's father is a priest and his brother unemployed, and offers tuitions to make both ends meet mounts to the conclusion that giving a death sentence to such a brutal killer is not justified.
There is no logic in highlighting the misfortunes of Dhananjoy's family. Even President A.P.J. Abdul Kalam has seen it fit to reject his mercy petition.
Had the rapist-murderer's family even said once "Our son has done a great wrong and he deserves this punishment", then probably the electronic media would have been justified in airing the family's statements. If the media doesn't exercise any restraint in this case, then soon mothers and sisters of killers, terrorists and rapists will be seen on the TV demanding a sympathetic view for their kin.
"So what if my son has blown up a building or a bus, he should be granted clemency as he was the sole breadwinner of our family!"