Nightingale of Ladakh
Tseshu Lhamo, a Sangeet Natak Akademi awardee, has taken Ladakhi folk music to other parts of India besides Japan, Thailand, Korea, Hong Kong and Mongolia. Lakshmi Salgame reports on the Lata of Ladakh.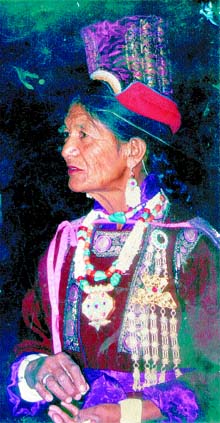 Tseshu Lhamo — Photo by the writer
Everybody knows her; from the tiny-tots to the aged as they direct you to her house in Chushod, in the outskirts of Leh, set amid willow trees and rows of cabbage and barley. Tseshu Lhamo, 72, in a carelessly brown deep brown goncha, suns herself on the verandah of her modest, traditional house with gaily-painted beams and woodwork; is engulfed in her thoughts. To an onlooker she passes off as any other old women basking in tender sunlight to beat the chill; but this 'Nightingale of Ladakh' (as she is popularly known) is a living legend. To Ladakhi music she is special and precious. Also nicknamed 'Lata Mangeshkar of Ladakh' by the townspeople, this Sangeet Natak Akademi awardee has taken Ladakhi folk music across geographic boundaries to other parts of India and also Japan, Thailand, Korea, Hong Kong and Mongolia.
Fame and Fortune do not always go together—like many other artists in India, after a glorious and inspiring career, now in her twilight, Tseshu Lhamo still struggles for her basic needs.
Dressed in traditional jewellery with strings of gem-studded chains and rustic headgear, her eyes twinkle as she speaks of her childhood. Born in the Spiti valley into a family of wandering minstrels, she recollects, "I used to accompany my parents from village to village. Some wealthy family would invite us to sing and in return give us food and shelter", adding, "my father Tsering Morup also played the shehnai." Singing tunes and appeasing people en route, Tseshu Lhamo and her family reached Ladakh.
As time passed, her talent became widely known. Soon recognition and fame knocked at her doorstep and awards trickled in. In her sitting room adorned with Ladakhi rugs and choktse (a traditional table with intricate wood carving and painted motifs) are displayed Lhamo's prized awards and mementos. The Sangeet Natak Akademi Award she received in 1985 holds fort in one isolated corner.
With age, Lhamo found her life-mate in a shehnai player and they were married. But as tradition had it, they continued to tour villages to sing and thereby earn a living. "We went all over ladakh, every corner to entertain people," she proclaims.
In the prayer room, a row of large, glass framed, black and white photographs hang opposite the altar. The young Lhamo stares out of them—a countrywoman with striking features. Music is in the blood for most of Lhamo's family. Her brother Sonam Lakdang, and her nephews, accompanied her on shehnai and the Daman whenever she sang. Daman is a folk instrument consisting of a two-drum set, one low-toned and the other high-toned. She herself played the daff, a tambourine-like instrument for her performances.
One can still sense her passion for music and dance as she speaks about her youth with a lot of excitement. After 18 years of wandering lifestyle, Lhamo and her husband saved up some money to build their house. "It started 30 years ago and the final structure isn't complete as yet," she says. Her husband is dead. She reminisces those 20 happily married years with him. "He was very happy that I was recognised and became famous. He encouraged me a lot," she recalls. "I was awarded a gold medal by the state government. The Ladakhi Buddhist Association (LBA) also gave me an award. I served as an LBA councilor for 5 years".
The tallest honor was of course the Padmashree that she received from President Of India for her contribution to folk music in Ladakh. A picture of her receiving the award from the then President of India, Venkatraghavan hangs prominently on the carelessly plastered wall of her prayer room. It feels like ages back. Lhamo no longer connects with that glory. She quietly tucks it away as the past. Her life recently has deteriorated and that has made Lhamo increasingly cynical about praise and fame she received.
Officialdom has forgotten her today. In 2003, her yearly pension of Rs. 3,000- stopped.
In 2001 Lhamo suffered a severe paralytic stroke in her lower limbs. Treatment has not been possible again due to their poor financial condition. A year later, the Jammu and Kashmir Academy of Arts, Culture and Language announced it would pay Rs.60, 000 for the treatment, but the family is yet to receive any money. In August 2003, the Academy honored her with the Lifetime Achievement Award. For Lhamo, fame has come in abundance. How she wished money followed!
"If I could sing like before, I could earn the money for the treatment," she says. At one point in time, she had become synonymous with the All India Radio that employed her regularly. Royalty from cassettes could have been a possible source of income. Lhamo estimates that in her lifespan of singing, she must have recorded over 500 cassettes for private companies.
Her cassettes still sell in around Leh. "But copyright and royalty laws were not enforced in Leh around that time. Most singers were rural and thus awareness was poor. However, recently awareness has increased," shares Kunzes Dolma, her daughter.
Lhamo's life has come full circle. From her days as a child artiste begging from village to village to being a mascot for Ladakhi music and travelling abroad to now -as she struggles to make ends meet and lies crippled on her mat.
Despite all odds she faces in her sunset years, Lhamo still posses an extraordinary spirit.