CAREER HOTLINE
Ceramic courses
Pervin Malhotra
Q I am keen to take up a course in ceramic design. Please suggest some institutes that offer this course? What are its job prospects?
— Gurjeet Kaur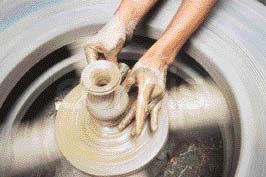 A Ceramic design involves designing pottery, crockery, tableware, sanitaryware and other decorative pieces by moulding clay into different shapes, glazing, and firing it in a kiln.
National Institute of Design (NID), Ahmedabad (www.nid.edu) offers courses in ceramic design at two levels in its Department of Industrial Design:

The four-year Graduate Diploma Programme in Design (GDPD), and two-and-a-half-year Postgraduate Diploma Programme in Design (PGDPD). While the former is open to students who've passed Class XII, the latter has now been revised to include glassware design, is meant for graduates in Engg/Archi/Ceramic Tech/Fine Arts-sculpture.

Apeejay Institute of Design, New, Delhi (affl to GNDU, Amritsar) offers a Bachelor's in Ceramic Design (4-yr). Eligibility: 10+2 (45per cent).

M.S. University, Faculty of Fine Arts, Vadodara, offers degree as well as diploma courses in Ceramic Sculpture.

Small Industries Service Institutes (GoI, M/o SSI) also run short-term (3-mth) Technical Skill Development Courses in Ceramics and Studio Art Pottery (pottery, terracotta, stoneware etc) from time to time in various cities (Delhi: SSI, Opp Modi Flour Mill, New Delhi 20). The fees are reasonable (Rs 2000).
Yet another option is to train under a professional studio potter.
The current fascination for decorative and utilitarian pottery has popularised this field considerably. Job opportunities for ceramic designers exist in large-scale, medium-scale and small-scale units involved in manufacturing ceramic products. State emporia and handicraft exporters also employ these designers. You can also work on assignments for interior decorators and handicraft boutiques. The ever-expanding domestic and exports market for designer ceramic and art objects offers good scope for entrepreneurs. After acquiring higher academic qualifications in this field, you can even hold faculty positions in colleges and institutions.
Avenues for women in the Army
Q I am a second year B.Sc (Medical) student. I want to know the opportunities in the Army for girls after graduation through the Combined Defence Services exam.
— Akritter Kad
A Although women have been traditionally recruited in the armed forces in the medical and nursing corps, today the Indian Army offers several other openings for women. There are a greater number of women in non-combatant areas in the Army. Women graduates are recruited only in the Short Service Commission for a period of seven years, which is extendable to 10 years. They are not granted permanent commissioned jobs.
The Women Special Entry Scheme inducts women as officers into the following branches of the Army:
Non-Technical Entry includes jobs in the Army Service Corps, Army Ordnance Corps, Signals, Corps of Engineers, Corps of Electrical & Mechanical Engineering.

Technical Entry includes jobs in the Corps of Engineers, Corps of Electrical & Mechanical Engineering, Signals.

Specialist Entry includes jobs in the Army Service Corps, Army Education Corps, Army Intelligence Corps.
Candidates must meet certain physical standards. Shortlisted candidates are called for interviews conducted by the SSB.
The selection procedure consists of two stages based on Psychological Aptitude Tests. After the interview, shortlisted candidates have to appear for a medical examination.
Upon selection, candidates undergo training for a period of six months before they are granted commission.
For the Law Cadre, the eligibility is a 3/5-year degree in Law with a minimum of 55 per cent (agg) marks. The age requirement is 21-27 years.
Women with an MBBS degree from the Armed Forces Medical College (AFMC) can join the Army Medical Services while BDS degree-holders are inducted into the Army Dental Corps.
The notifications for entry into the Army are published from time to time in leading national dailies.
For further information, you may contact:
Additional Directorate General of Recruiting (Women Entry Section), West Block-III, RK Puram, New Delhi 110066. Or log on to: www.joinindianarmy.nic.in.
School administration skills
Q I have done B.Ed, M.Sc (Anthropology & Sociology) and have been in charge of school administration for a number of years. Is there any course that can hone my skills, preferably through correspondence?
— Avinash Kaur
A The phenomenal growth of secondary education in India has created a huge gap between demand and supply of principals, headmasters and teachers. To bridge this gap the following are some institutions that offer 1-year PG courses in educational administration/management:
Madurai-Kamaraj University and Alagappa University, Karaikudi 623003 offer M.Phil in Education (corresp).

Yashvantrao Chavan Maharashtra Open University, Nashik 422005 offers PG Diploma in School Management (corresp).

Centre of Education Management & Development, A- 287, New Friends Colony, New Delhi-110065 (Ph: 26911826/827). This NGO offers an Educational Leadership Programme.
Law education
Q I completed B.Com last year and now I want to do LLB. Since I am working, kindly suggest the names of universities that offer LLB through distance education?
— Md.Niyamathullah K
A Unfortunately, no university offers a full-fledged three-yr LLB through correspondence.
However, the following law courses can be done via distance mode:
Annamalai University, Directorate of Distance Education, Annamalinagar 608002. Courses: Bachelor of Academic Laws (3yrs) and Bachelor of General Laws (2yrs).

University Of Jammu, Directorate of Distance Education, New Campus, Jammu 180006. Course: LLB (Academic) (2yrs).

Kakatiya University, School of Distance Learning & Continuing Education, Warangal 506009. Course: Bachelor of General Laws (2yrs).

University Of Kashmir, Deptt. of Distance Education, Hazratbal Srinagar 190006. Course: LLB (Academic) (2yrs).

Madurai Kamraj University, Directorate of Distance Education, Palkalainagar, Madurai 625021. Course: Bachelor of General Law (2yrs).
Note: Unfortunately, due to statutory requirements, these courses are not recognised by the Bar Council of India and you will not be able to practice in a Court of Law with this qualification. Of course, the knowledge of law will always prove useful in any field.
Scope of Home Science
Q I have passed Class XII in the science stream. I am keen on doing a course in Home Science. What are the job prospects in this field?
— Swati Mehta
A Both a science as well as an art, and combining theoretical knowledge with extensive fieldwork, Home Science is an interdisciplinary field that gears students for employment as well as entrepreneurship. Contrary to belief, it has numerous applications outside the home as well.
To prepare for the four basic areas of Home Science (Food & Nutrition, Clothing & Textile, Human Development and Family Resource Management), you'll study varied subjects spanning across biological and physical sciences i.e. chemistry, biochemistry, physics, anatomy and physiology, bacteriology, microbiology, health & hygiene, economics, sociology, psychology and perhaps a few more. However, each of these subjects is taught only to the extent necessary to provide a grounding in the four major areas.