Sky is the limit for airhostesses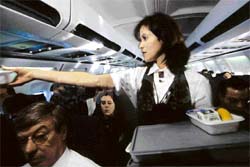 The burgeoning tourist traffic in India is creating more and more demand for people in the service sector of the aviation industry. With several international as well as domestic carriers scouting for talent in the region and offering lucrative packages, the job prospects of airhostesses are soaring high, writes Aditi Tandon

AS a preferred destination for over 2.5 million tourists annually, India accounts for 4 per cent of the world tourist traffic. The figures are swelling with each passing day, creating unlimited job opportunities in the aviation, hotel and allied sectors.


STEPS TO SUCCESS
"Exposure to new places great learning experience"
by Tripti Nath
NALINI Chib, an airhostess with Air-India for the past 15 years, has a portfolio that cannot be ignored. A qualified pilot and lawyer, Nalini holds a commercial pilot's licence from Texas and longs to explore the skies. Nalini was a second year law student in Panjab University when she got an interview call from Air-India for the job of an airhostess. At 21, she left her hometown Chandigarh and law training to move to Mumbai to pursue a career in aviation. Her mother, Shanta Jeswani, who had been an airhostess in the sixties,' and her father, an engineer, were keen to see her as an airhostess.


Nalini Chib, an airhostess with
Air-India

IN FOCUS
Grooming personnel for international business
Manish Kumar Singal
WITH the globalisation of the economy, more and more companies are coming up in the export sector, giving a boost to the job opportunities for the students of International Business. To meet their manpower needs several institutes are offering professional degrees in this field. The Fortune Institute of International Business (FIIB) is one of the institutes offering Post-Graduate Diploma in International Business.


TALKING POINT
Should govt run career counselling centres?
EVERY year, lakhs of students passing out from schools prepare and look out for careers in different fields. Many of them are unaware about the career opportunities available in fields other than medicine, engineering or the IAS and allied services. In such a scenario, should the government run counselling centres to guide students properly about the careers best suited to them? Manish Kumar Singal examines.


SMART SKILLS
Motives & interests dictate work choices
Usha Albuquerque
THE decision of one's career is the most important decision of our life. Yet, often it is made on the basis of unrealistic professional aspirations, inadequate knowledge, parental and societal pressures and emotional factors that should rightly be irrelevant to this decision.
---
EVENT BUZZ
Students get a peek at offbeat courses
AN interactive session on 'Offbeat Courses and Careers' held at R.R. Bawa DAV College for Girls, Batala, last week brought into focus certain non-conventional career options, the training facilities available to pursue them and their job potential.

CAREER HOTLINE
Ceramic courses
Pervin Malhotra
Q I am keen to take up a course in ceramic design. Please suggest some institutes that offer this course? What are its job prospects?
School administration skills
Law education
Scope of Home Science