Sky is the limit for airhostesses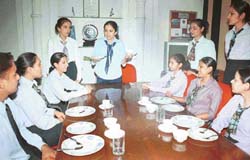 AHA students learn the art of serving food. — Photo by Pradeep Tiwari
The burgeoning tourist traffic in India is creating more and more demand for people in the service sector of the aviation industry. With several international as well as domestic carriers scouting for talent in the region and offering lucrative packages, the job prospects of airhostesses are soaring high, writes Aditi Tandon
AS a preferred destination for over 2.5 million tourists annually, India accounts for 4 per cent of the world tourist traffic. The figures are swelling with each passing day, creating unlimited job opportunities in the aviation, hotel and allied sectors.
The hotel industry is the second largest foreign exchange earner for India. Receipts from foreign tourists rose from US $ 1.45 billion in 1991 to US $ 2.96 billion in 2000. As for the aviation sector, globalisation of our economy has ensured that all major international carriers have set up offices in India.
All major airlines, including KLM, Malaysian Airlines, Mahan Air and Wafi City-Dubai, are now recruiting people like never before. And their packages (starting at Rs 35,000 to Rs 55,000 per month) are lucrative enough to lure the best talent in the sector.
Catering to the airline sector's demand for professionals are a number of educational institutions and training centres. The Human Resource Development Ministry has already incorporated travel and tourism courses in all major management institutes across the country. Several private institutes too are grooming talent in this field.
The Air Hostess Academy (AHA) has 12 branches across the country and claims to be the only training institute in this sector to have been certified under the ISO 9001: 2000 standards. Its branches are in New Delhi, Chandigarh, Dehra Dun, Mumbai, Jaipur, Pune, among other places.
Among the other institutes are the Institute of Tourism and Future Management Trends (ITFT) and the Frankfinn Institute. While the former is based in Chandigarh, the latter has a branch in the city. The ITFT claims to be the first institute in India to offer a B.Sc in Airlines, Tourism and Hospitality that is recognised by the Director General of Civil Aviation.
Career graph
Experts in the airlines sector point out that the term ' air hostess' does not really exist in the industry parlance. The actual term is, in fact, a flight steward (for boys) and a flight stewardess (for girls). Their duties and career progression is as follows:
Flight steward/ stewardess: They deal with passenger care and other services while on board a flight. They earn anything between Rs 15,000 and Rs 32, 000 in a domestic airline and Rs 75,000 to Rs 1 lakh in an international carrier. Jet Airways is the best paymaster among domestic operators. Stewards also get attractive perks, including free summer and winter uniforms, foreign allowance, free air travel for self and for the family at 10 per cent of the total fare.
Flight purser: After three to five years, a flight steward/stewardess is eligible to become a flight purser, who is in charge of the cabin crew on board. Salaries double up at this stage.
Ground job: Having served on the flight for long, people can opt for ground jobs in sections like staff training and human resource in the corporate office.
Course content
Says Chandigarh girl Sapna Gupta of AHA, "All airlines basically want youngsters with a positive attitude, a cheerful face, quick reflexes and a pleasant personality."
AHA offers integrated training for all kinds of airline jobs, including those of airhostess, flight steward and a customer service professional. To fill the gap between theory and practical training, the AHA authorities recently organised a special tour to provide in-flight training to its Chandigarh branch students.
The initiative involved hands-on training. The students got to fly in the Jet Boeings with the cabin crew. During the half hour training session, students were lectured on aspects of "in-flight service."
Anyone interested in joining the airlines industry has two options to begin with. As Dr Gulshan Sharma, Director, ITFT, points out, "It you have the physical attributes needed to become part of the cabin crew, you can seek training for that. Otherwise, you can get trained for airport or airline ground duties."
Placement prospects
AHA claims that it has a 100 per cent placement record. Its students are working with the two major domestic airlines, Jet and Sahara, as also with international airlines like KLM, Malaysian Airlines, Sri Lankan Airlines, Mahan Air and most recently Air Slovakia, which has now commenced operations from Amritsar in Punjab. Air Slovakia directly recruited nine AHA students from Chandigarh. The starting salary offered to them ranges between Rs 35,000 and Rs 55,000 a month.
Navdeep Jassal, an AHA student who's been recruited by Air Slovakia, is just 19 and already bringing home a packet of Rs 55,000 per month. Having been on the job for about a month, she admits that this line is not all about glamour. "It involves a lot of hard work and patience. Long flights are very demanding. But I have been groomed to handle all kinds of situations."
In April this year, the ITFT organised a job fest, in which 5000 youngsters walked in for interviews with leading service sector players. Out of the 1000 who got jobs, 86 entered the airline industry. The rest were absorbed in other branches of the service industry.
The flip side
Cabin crew faces tremendous stress. Long flying hours, little resting time and long halts can be tough to cope with. Coupled with that is the obligation of being pleasant to passengers, irrespective of the stress a crew member is under.
This may justify the handsome salaries which stewards get. As for the exploitation or harassment part, most girls take it in their stride and learn to deal with awkward situations. A Chandigarh girl who was recently recruited by Air Sahara says, "You have to strike a fine balance between self-esteem and ambition. Things are not as bad as they are projected to be. But yes, most air hostesses prefer to marry captains as they get so used to flamboyant lifestyles."


STEPS TO SUCCESS
"Exposure to new places great learning experience"
Tripti Nath
NALINI Chib, an airhostess with Air-India for the past 15 years, has a portfolio that cannot be ignored. A qualified pilot and lawyer, Nalini holds a commercial pilot's licence from Texas and longs to explore the skies.
Nalini was a second year law student in Panjab University when she got an interview call from Air-India for the job of an airhostess. At 21, she left her hometown Chandigarh and law training to move to Mumbai to pursue a career in aviation. Her mother, Shanta Jeswani, who had been an airhostess in the sixties,' and her father, an engineer, were keen to see her as an airhostess.
The three-month-long training in Mumbai involved learning how to tie a saree, wearing make-up, wet drills to learn how to serve passengers in a cabin designed like an aircraft and know the finer distinction between red and white wine followed by trainee flights under the eye of a check hostess. ``It is important to know which region of France the wine is from. We were taught how to hold a wine glass, a fork and a knife and how to make basic flights. They also familiarise the trainees with different foods and cheese.''
She has travelled with former Prime Ministers P.V. Narasimha Rao and Atal Bihari Vajpayee to the UK and USA, respectively. "VVIP flights are interesting," she says.
Since she joined Air-India in November 1988, Nalini has travelled round the world to destinations in the US, UK, France, Italy, Canada and West Asia.
Sixteen years of experience in the aviation sector have convinced her that this line is definitely for those who have wanderlust and a desire to lead a high-flying and good life. "You have access to the good things of life and plenty of money. You have no time to get bored but it can be a very lonely life. There is nothing mentally stimulating about the job. Jetlag is very killing, especially when you are crossing time zones and climatic zones. It is a physically exhausting job.
"Most international flights are early in the morning. So, one has to wake up at 3 am, dab on make-up, be out at 4 am and get on the flight. Behind the glamour, there's lots of hard work. This is a field which is not yet free of the casting couch,'' says the 5-feet-nine-inches tall Nalini, a stunner who can give models a run for their money.
Enumerating the positive aspects, Nalini says that it contributes to grooming and individual growth. "Some women who joined our batch have been totally transformed. When you join, you are between 21 and 25 and receptive to new ideas. Exposure to new places is a great learning experience.''
Nalini is a homemaker as well. Married to Rohit Taank, a pilot with Jet Airways, she has a one-and-a-half-year-old daughter, Laila.