EVENT BUZZ
Students get a peek at offbeat courses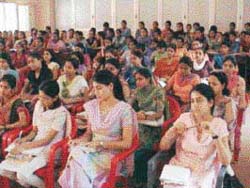 Students of R.R. Bawa DAV College for Girls, Batala, at a session on offbeat careers
AN interactive session on 'Offbeat Courses and Careers' held at R.R. Bawa DAV College for Girls, Batala, last week brought into focus certain non-conventional career options, the training facilities available to pursue them and their job potential.
Organised by the Career Counselling Cell and Placement Cell of the college, the session also helped to highlight the limitations the students face while making career choices.
Veena Watni, Principal of the college, pointed out that the media, the UGC, universities and NGOs were all working in the same direction-that of promoting diversification and vocationalisation of the education system.
Still, most students were unable to think beyond the traditional courses due to lack of awareness about new or upcoming fields as also peer and family pressure to stick to the groove, it was felt.
"Though courses like Clinical Nutrition and Dietetics (CND) have immense job potential, students lack awareness about the avenues. Apart from joining hospitals or other health institutions, students with this specialization can start tiffin service from home," said Renu Chauhan, Head of the Department of Zoology.
Lovely Sandhu, co-convener of the Career Counselling Cell, pointed out, "There are no water-tight compartments to divide careers for boys and girls. Students should take up what they are interested in."
"Most girls adopt conventional courses and this trend should be changed," felt Meenakshi Duggal, convener of the Career Counselling Cell. .
During the session, the students were informed about the job opportunities in the fields of fashion, hotel management, travel and tourism, mass communication, food and nutrition and social work. The importance and scope of fashion designing in view of the vast hosiery and knitwear industry in Punjab was stressed. "In fact, we have an in-house boutique in which we absorb the best talent of our fashion designing course," informed Tirath Bala, convener of the Placement Cell and Head of the Home Science Department.
The students were also informed about emerging fields like biotechnology and bioinformatics, which have a rapidly growing job market.
Medical students expressed a keenness to know about options other than the traditional jobs of doctors and nurses. The students' desire to know about the scope of fields like forensic science and queries like "'does one have to work with criminals?" showed that though they are willing to think beyond the conventional fields, they lack accurate information and awareness about alternative career options.
Though not many of the students seemed enthused enough to become a Barkha Dutt, post-Lakshaya, some did evince an interest in reporting and the electronic media.
Call centre jobs too came up for an animated discussion with some students voicing concern over the high attrition rate and the closure of some BPO units following the US hue and cry over outsourcing.
Students of B.Com (professional)-III, B.A-III and final year students of B.Sc (Economics), B.Sc (CND) and B.Sc (Medical) attended the session.
— CKB