M A I N N E W S
Centre to assist Assam in countering militants
Tribune News Service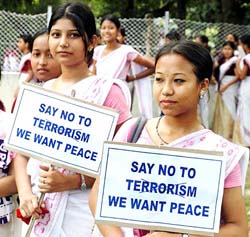 Schoolstudents hold placards at an anti-terrorism rally in Guwahati on Tuesday. Protest rallies were taken out by several orgaisations against the killing of innocent students by the militants on Independent Day in Dhemaji, Assam. — PTI photo
New Delhi, August 17
Union Home Minister Shivraj Patil today assured Parliament that the Centre would provide "all assistance" required by the Assam Government to counter the acts of violence and insurgency perpetrated by militants.
Making a statement in both Houses of Parliament on the bomb blasts in Dhemaji district of Assam on Independence Day, the Home Minister said the state government had placed a Superintendent and an Additional Superintendent of Police under suspension for security lapses. "The Deputy Commissioner is also being replaced. The state government has also declared ex-gratia grant of Rs 3 lakh each to next of kin of the deceased and Rs 50,000 each to the seriously injured," Mr Patil said.
The minister said Rs 10,000 each would be paid to those who suffered minor injuries and all medial expenses would be borne by the state government.
A powerful bomb explosion took place on August 15 during Independence Day celebrations on Dhemaji College grounds, resulting in the death of 13 persons. The victims were spectators who had come to participate in the function.
"The explosion appears to be the handiwork of ULFA cadres," the minister said, adding that preliminary investigations had revealed that the explosion was caused by an IED planted 40 or 50 m from the rostrum near the public enclosure. There were two other incidents in Assam on Independence Day. In one, an IED explosion took place in Dhakuakhana Normal School field. "The explosion was caused by a timed device planted well in advance and ULFA cadres are suspected to be behind the act," he said.