PUNJAB
HARYANA
JAMMU & KASHMIR
HIMACHAL
REGIONAL BRIEFS
NATION
OPINIONS
MAILBAG
BUSINESS
SPORTS
WORLD
M A I N N E W S
Downpour in region, and more to follow
Aditi Tandon
Tribune News Service


Mishap averted near Pathankot
A tragedy was averted on the Sundernagar-Shangu highway beneath the Chakki Railway over-bridge when a bus carrying 20 passengers was caught in deep waters. About 10 feet water had suddenly accumulated in the area. The passengers were rescued with the help of ladders.
Chandigarh, August 17
There is heartening news for the north-western region. Weather experts at the Indian Meteorological Department (IMD), Delhi have rated today's rainfall as the best monsoon spell for the northwest in this entire season.
Assessing the downpour as "extremely beneficial and good for agriculture" which dominates the economy of many states in the northwestern zone, Met officials say this spell is expected to last for at least a day.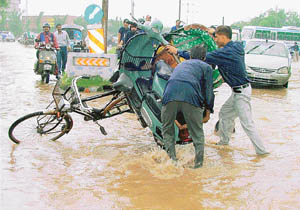 Although rated "economically best" rainfall for the north-western region for this season, today's downpour did not amuse this rickshawpuller who had a hard time controlling his vehicle from toppling under the weight of a scooter in Chandigarh's Sector 20 on Tuesday. — Tribune photo: Parvesh Chauhan
Speaking to The Tribune today, Mr B.P. Yadav, Director, Met, Delhi said: "Our forecast is that the northwest region will experience very good rainfall, which will hugely benefit farmers. This forecast will hold good for the entire northwest without exception. Meteorologically, this region comprises Jammu and Kashmir, Himachal Pradesh, Uttaranchal. Haryana, Delhi, Chandigarh, Punjab, Rajasthan and western UP."
Significantly, with today's rainfall, the region will further recover from the deficiency which it has been facing ever since the monsoon season began this year. The deficiency was caused due to a weak monsoon for a large part of the season. Severely deficient until three weeks back, the north-western region has already made up for the losses to a large extent.
Where the reported deficiency for northwest until about July 27 was minus 35 per cent, now it stands at a manageable 22 per cent. When contacted, Mr S.C. Bhan, also from IMD, Delhi, admitted, "The recovery from rainfall deficiency has been tremendous, especially for the northwestern India, including Punjab, Haryana and Chandigarh. Today's rainfall will further help us bridge the gap in rainfall in the northwest zone."
Ruling out a flood-like situation, except if the weather systems go haywire, weather experts also forecast a moderate rainfall for the northwest. Says Mr Bhan, "Agriculturally, this rainfall will be the best of the season for the northwest. While most parts will have moderate rainfall, some isolated pockets may have heavy downpour. We are calling this spell good for the NW because it will be fairly widespread, not very low, neither very heavy. There are no chances of a deluge like situation which Punjab and Chandigarh areas experienced some time ago."
Explaining the weather phenomena, Mr Yadav said there were three primary causes for "good rainfall" in the northwest. "The first cause is the formation of a low pressure area over northwest Rajasthan and southwest Uttar Pradesh. Also we have an upper air cyclonic circulation over Punjab, which will bring it good rainfall. Furthermore, there are western disturbances over Jammu and Kashmir. These three weather systems have come together in a pattern that would be hugely beneficial for the areas we mentioned above. We expect good rainfall in the next 24 hours."
Rainfall recorded in some stations of northwest India showed Chandigarh had received the best spell of 58 mm between 8.30 am and 5.30 pm. Measurements for some other areas are Amritsar (51 mm), Ludhiana (40 mm), Patiala (14 mm), Ambala (48 mm), Hisar (2 mm), Bhuntar (13 mm), Shimla (5 mm).