From Schools & Colleges


Workshops to sensitise teachers
Our Correspondent

Ludhiana, August 20
A series of workshops on the sensitisation of teachers were held at Sacred Heart Senior Secondary School, BRS Nagar. These were conducted by the counsellor, Ms Sulakshana Mehta. The aim was to sensitise teachers' approach and make it more positive and student friendly.

The workshops worked as a bridge between the teacher and the student. The main agenda of problem sharing and positive attitude were successfully met.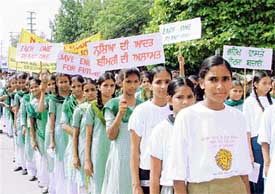 Government school students take out a rally on Rajiv Gandhi's birth anniversary, urging people to save energy. — Photo by Inderjit Verma

Rally marks Rajiv's anniversary:

A rally to mark the birth anniversary of Rajiv Gandhi, with the slogan of save energy, started from Government Girls Senior Secondary School, Civil Lines, on Friday. Students of government schools of the district participated in the rally. The rally was flagged off by Deputy Commissioner Anurag Verma. The students shouted slogans on the importance of conserving energy.

Blood donation camp:

A blood donation camp will be organised by the NSS unit of Kamla Lohtia S.D. College in the auditorium with the help of the Red Cross Society on Saturday. Mr Jagmohan Gupta, president of the governing body will be the chief guest.

Dr Yograj Angrish and Mr Deepak Dhingra, programme officers of the NSS, said this noble gesture would go a long way in serving the humanity.